Pictures show various Russian ballistic weapons but not its new "Satan 2" missile
Images of three different missile systems have been shared widely on Facebook alongside a claim that Russia recently unveiled a new weapon that could eradicate every living being on Earth. But this is false: the weapons featured in the posts are old and do not show the fearsome new RS-28 Sarmat, also known as Satan 2, which will only enter service towards the end of 2022, according to experts.
One of the Facebook posts, which features three images of surface-to-air missile defence systems, was published on February 25, 2022, on a page called "Thunder Newspaper" with more than 14,000 followers.
"BreakingNews. Russia unveiled a nuclear weapon called 'Satan 2 liquid fueled nuclear missile' capable of destroying everything breathing in the world (sic)," reads the post.
Screenshot of the misleading claim on Facebook, taken on March 1, 2022
It has been shared more than 34,000 times and generated nearly 3,000 likes.
Other posts featuring the same images were also shared on Facebook in Ethiopia here, here and here.
The claim surfaced soon after Russian President Vladimir Putin launched a full-scale invasion of his Western-backed neighbour Ukraine on February 24, 2022.
AFP reported that Russia has amassed more than 150,000 troops on Ukraine's borders.
AFP map of Ukraine locating areas where fighting has been reported, as of March 3, 2022
However, AFP Fact Check found that none of the three photos shows a new devastating Russian missile nicknamed "Satan 2," as this weapon is still in development. All of the missiles in the images, however, were built to carry nuclear warheads.
R-36 "Satan"
A reverse image search focusing on the first picture led to a 2016 article published by Business Insider, an American online media company. The story carried the photo, which was credited to a Twitter account called DoctorNoFI and published a few days earlier.
AFP Fact Check conducted further searches and traced the image and other versions of it to DreamsTime.com, an online royalty-free stock photo provider based in the United States.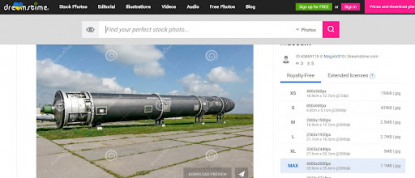 Screenshot of the original image on Dreamstime, taken on March 3, 2022
"SS Rocket 18. Satan in the museum," the caption reads. "In Ukraine, there is a special museum showing the weapons, after the adoption of decisions on the country's nuclear-free status (sic)."
Similarities between picture shared in the misleading post (L) and the original image (R)
The picture was taken in Ukraine at the Museum of Strategic Rocket Forces, located nearly 300 kilometres south of the country's capital Kyiv. Images and videos of the rocket seen in the misleading post are available on Ukrainian tour agency website.
Contacted by AFP Fact Check, Pavel Korsun, an agent for the Ukraine Tour and Travel Guide, a company that organises trips to the open-air museum, confirmed the image was taken at the site where the missile is displayed. It is also visible on Google Maps.
Although Korsun was unable to confirm which model R-36 was exhibited in the museum, he did confirm that it is not the Satan 2, but its predecessor. All R-36 models have either been retired or are being phased out.
Screenshot of the original Satan missile's characteristics, taken on March 3, 2022 from MissileThreat
SS-27 Topol
The second image shared in the misleading Facebook post shows a man looking at a ballistic missile launcher.
Russian Topol intercontinental ballistic missile launcher at an exhibition outside Moscow in 2016 ( AFP /Alexander Utkin)
A reverse image search led to an AFP photograph published in September 2016 which shows the weapon on display at the permanent exhibition of military equipment and vehicles at Patriot Park in Kubinka, Russia.
The Russian Topol, which has been in service since 1997, is a solid-fueled intercontinental ballistic missile with a range of 11,000 km.
Screenshot of Topol missile characteristics found on MissileThreat, taken on March 1, 2022
RT-2PM2 Topol
The last image shared in the misleading posts shows a different Russian Topol equipped with a system transport-launch container.
Another reverse image search revealed that the image has been online since March 2012 and was taken during the first rehearsal for the Victory Day Parade at the training ground in Alabino, Russia.
Screenshot of the RT-2PM2 Topol-M during first rehearsal for the Victory Day Parade, taken from WikimediaCommons on March 1, 2022
The image on WikimediaCommons was sourced from this military blog and is available here.
RS-28 "Satan 2"
Guy Martin, the editor of defenceWeb, a South African-based news site specialising in security and defence, confirmed none of the images shared on Facebook shows the vaunted Satan 2 missile as it is not yet operational. He also refuted the claim that the missile will be capable of eviscerating life on Earth, as the Facebook post suggested.
"The RS-28 Sarmat/SS-X-30/Satan II certainly cannot destroy everything breathing in the world," Martin said, although he added that the missile could wipe out a small country as it carries about a dozen nuclear warheads.
Screenshot of what the Sarmat, designed by Makeyev Design Bureau, will look like, taken on March 1, 2022
Designed for Russia by the Makeyev Design Bureau, the RS-28 is an "advanced intercontinental ballistic missile (ICBM), designed to evade, spoof or overwhelm enemy defences, but will not be immune to countermeasures," Martin explained.
However, as of March 1, 2022, this weapon is still under development and will only enter service towards the end of 2022, after a number of delays, according to Russian state-owned news agency TASS.
Moscow has the world's second-largest arsenal of nuclear weapons and a huge cache of ballistic missiles. Putin has also boasted of developing a number of "invincible" weapons that can surpass existing systems, including the Sarmat, AFP reported.
AFP Fact Check has debunked a number of false claims relating to the war in Ukraine.
March 4, 2022 This article has been updated to add metadata.