Photo of Florida governor altered to insult Canada's Trudeau
A photo of Florida Governor Ron DeSantis holding a T-shirt that calls Canadian Prime Minister Justin Trudeau "useless" is being shared on social media. But the image has been manipulated; the original shows the Florida Republican promoting a visit to the headquarters of US fast-food chain Popeyes in 2019, and he made no such insult in public.
"I love Governor DeSantis!" says a February 15, 2022 Facebook post featuring the image of the state of Florida's leader holding an orange T-shirt that says: "THERE ARE 4 USELESS THINGS IN THIS World A WOKE LIBERAL COVID VACCINE A FACE MASK & JUSTIN TRUDEAU."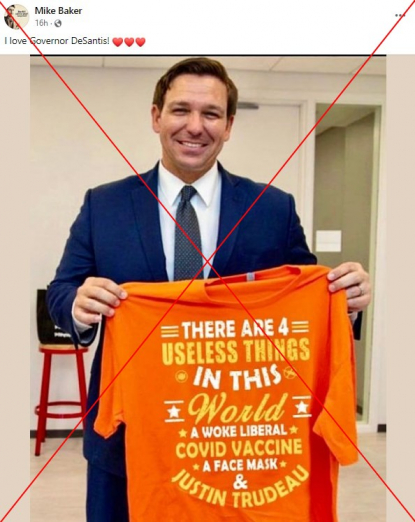 Screenshot of a Facebook post taken on February 16, 2022
The same picture appeared elsewhere on Facebook and on Twitter.
The image circulated online after Trudeau invoked the Emergencies Act, only the second time in Canadian history such powers have been used in peacetime, to try and end a trucker-led protest against pandemic restrictions and vaccine mandates that has beset the capital Ottawa for weeks.
The protest has attracted the support of US conservatives and millions of dollars in donations, first via the crowdfunding platform GoFundMe. The company removed the fundraiser for violating its terms of service, prompting DeSantis to tweet that his state would investigate the fundraising platform.
But while DeSantis weighed in on the protest fundraiser, AFP found that the T-shirt image is altered.
A Google image search for the keywords "Ron DeSantis holds orange shirt" leads to a November 1, 2019 article on the website of the local television station WPTN headlined: "Governor ready for a chicken sandwich 'taste test.'" It includes the image of DeSantis holding an orange shirt that says: "I went to Popeyes for the new chicken sandwich and all I got was this lousy T-shirt."
Screenshot taken on February 16, 2022 of an article on the website of WPTV
The image is sourced to the governor's official Twitter account, where it was posted on September 27, 2019 after he made visit to the Miami offices of the popular food outlet.
This is not the first time the image has been doctored. In 2021, AFP found posts claiming he was holding a shirt criticizing masks and US President Joe Biden.