Dennis Rodman photo doctored to add anti-mask message
As US cities reinstate mask mandates to combat the highly-contagious Delta variant of the coronavirus, Facebook users are sharing a photo of Dennis Rodman wearing a T-shirt with an anti-mask message. The image has been doctored; the original taken by an AFP photographer showed the former basketball star dressed in a shirt advertising a cryptocurrency.
"Love The Worm... and he's right!" reads the caption of an August 1, 2021 Facebook post referring to Rodman by his NBA nickname. It is accompanied by a photo that shows him in a T-shirt bearing the words: "Your mask is as useless as Joe Biden."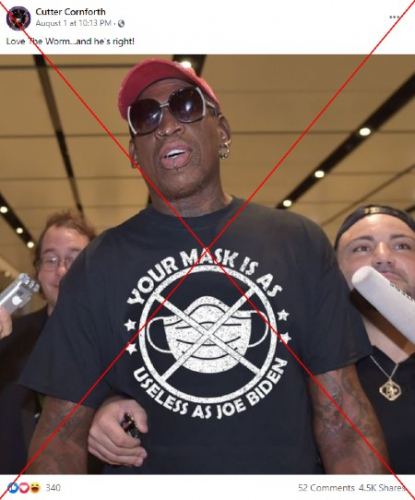 Screenshot of a Facebook post taken on August 10, 2021
The photo was shared more than 4,500 times on Facebook, and a similar version circulated on Twitter.
However, it was doctored and is part of a pattern of misinformation about mask-wearing that has spread throughout the pandemic, and which AFP has debunked numerous times.
A Google reverse image search shows that the picture was taken by AFP photographer Adek Berry in Singapore on June 11, 2018, ahead of a summit between Donald Trump, US president at the time, and North Korean leader Kim Jong Un.
The T-shirt Rodman wore advertised a cryptocurrency company and said: "Peace Starts in Singapore," as shown in AFP's original photo below:
Dennis Rodman (C) speaks to reporters at Singapore's Changi Airport on June 11, 2018 ( AFP / Adek Berry)
Rodman, who is known for his personal relationship with Kim, flew to the southeast Asian city-state to "give whatever support is needed to my friends, @realDonaldTrump and Marshall Kim Jong Un," he tweeted at the time.
The shirt advertised PotCoin, which sponsored Rodman's trip.
The T-shirt featured in the doctored image was for sale online, suggesting someone wanted to profit from Rodman's image to sell them.
Similarly, another Facebook post bore the same message, but on a T-shirt held by Florida governor Ron DeSantis. The original photo showed the Republican holding a Popeyes restaurant shirt.
Rodman's stance
Rodman did not respond to AFP's requests for comment about his stance on mask wearing or US President Joe Biden.
However, the retired NBA player, known for his rebounding prowess, was a cast member on "The Celebrity Apprentice," a reality TV show hosted by Trump.
In 2018, Rodman also tweeted that he was "honored to call @POTUS a friend," in reference to Trump, who rarely wore a face mask.
Rodman has not made statements on his social media or to the press about mask-wearing during the pandemic.
Health authorities including the US Centers for Disease Control and Prevention (CDC) say that wearing face masks is safe and helps protect against SARS-CoV-2, the virus that causes Covid-19.
"Over the course of the pandemic, the scientific evidence and our understanding of masks have grown. The data we now have conclusively show that widespread use of masks is a very effective way to reduce the spread of Covid-19," a CDC spokeswoman told AFP in March 2021.
Studies have shown they lessen the distribution of respiratory droplets that carry the virus.
In response to the Delta variant, on July 27, 2021 the CDC revised its guidance on masks to say that even fully vaccinated people should wear one in public indoor places if they are in areas with higher rates of coronavirus transmission