Comments on coronavirus measures falsely attributed to Fox News host Tucker Carlson
Social media posts shared thousands of times attribute comments criticizing coronavirus measures to Fox News host Tucker Carlson. But a Fox spokeswoman said Carlson did not say or post them, and they have also been credited to multiple other people by name as well as to an anonymous author.
"I am not required to descend into poverty for YOU. I am not required to abstain from human contact for YOU. I refuse to participate in 'quarantine life' until there's an unsafe, untested vaccine released in eighteen months," says part of a lengthy August 6, 2020 Facebook post.
"YOU stay home. YOU wear a mask. YOU live in fear. I on the other hand will not as is my soverign right to choose NOT TO," the post says.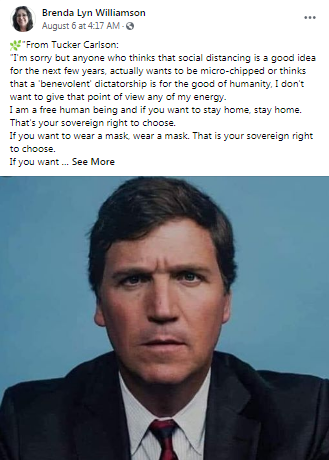 A screenshot of a Facebook post taken on August 11, 2020
The post is also attributed to Carlson on Facebook here, on Instagram here and here and on Reddit here.
The conservative Fox News host has criticized measures aimed at curbing the spread of the coronavirus.
But Carlson is not the source of the specific comments attributed to him in the social media posts and by this website, a Fox News spokeswoman told AFP by email.
Searching for the text of the comments on the Fox News site as well as on the internet as a whole does not credibly tie them to Carlson.
And the comments -- either in part or in full -- have also been credited on social media to Tucker Wilson and Kristen Lynne Hall, as well as to an unknown author.
They also appear in full in this letter to a North Carolina weekly, while parts are included in this column for a newspaper from California.
Carlson's show has an average audience of several million viewers every weeknight, and is the most-watched show in the history of cable TV.
The comments attributed to Carlson are just the latest example of text written by others circulating on social media under a famous person's name. AFP Fact Check has previously debunked posts falsely attributed to Anthony Fauci, Tim Allen, Ron Howard and Serena Williams.
AFP Fact Check has also debunked more than 590 examples of false or misleading information about the novel coronavirus crisis. A complete list of our fact checks on the topic in English can be found here.