Claim that pictures show neglected railway line between two Nigerian cities is misleading
Social media posts are circulating in Nigeria with pictures purporting to show dilapidation on the railway line linking Nigeria's southern oil-rich city of Port Harcourt to Maiduguri, in the country's northeastern region. This claim is misleading; one of the four images shows a different railway line that has since been rebuilt, while the other three pictures were taken earlier this year in Nigeria's southeastern state of Abia after hoodlums vandalized a section of the tracks. The rail corridor in question is, nonetheless, set for a major revamp.
The earliest version of the claim appeared in a Facebook post on March 10, 2021, published by an account called Jimoh Sule, according to data provided by social media monitoring tool CrowdTangle.
Screenshot of the false Facebook post, taken on March 15, 2021
"Before they Start calling the Portharcourt-Maiduguri railway project that passes through 10 states Jonathan's project, this is what is presently on ground .. (sic)," reads the post's caption.
Sule's post was reshared on Facebook by a page called Buhari Reporters. With nearly 250,000 followers, the page claims to highlight the "success" of President Muhammadu Buhari's administration, according to the bio.
The four images circulating with the false claim also appeared on Twitter here.  The user who posted the tweet describes himself as a "Core Buharist", which is a common term for Buhari's supporters. This tweet was then shared by Buhari's social media aide, Lauretta Onochie. AFP Fact Check has previously debunked false information shared on Onochie's account.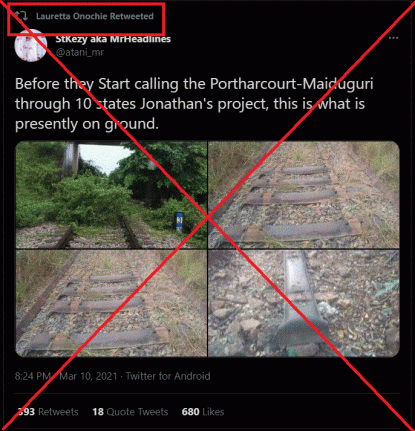 Screenshot of the false Facebook post shared by Onochie, taken on March 15, 2021
Other people who shared the images and false claims include Joe Igbokwe, the special adviser to the Lagos state governor for drainage and water resources, and a media assistant for the Edo state governor, Jack Obinyan
Nigeria pushing rail development
Nigeria's plan to diversify its economy away from the oil sector is driving the creation of a nationwide rail network, including rail projects conceived by Buhari's predecessor, Goodluck Jonathan.
Since Buhari defeated Jonathan in 2015, supporters of the two politicians have continued to debate over who gets credit for recently completed rail projects in Africa's most populous nation. 
Against this backdrop and last week's launch of a $3.2 billion project to reconstruct the Port Harcourt-Maiduguri narrow gauge railway, social media accounts with a history of promoting government's activities began to circulate the set of images, purporting to show the current state of the railway lines connecting the two Nigerian cities as examples of Jonathan's legacy. 
Main image shows a different train line
A Google reverse image search of the first picture showing railway tracks covered in growth led to this online article from September 27, 2020. 
Further investigations revealed the image was first published online on August 7, 2017, by Israel Ibeleme, a media aide to Nigeria's Minister for Transportation, Rotimi Amaechi.
The image was taken during Amaechi's first inspection of Agbor Station, which has now been renamed after Jonathan and is part of the Itakpe-Ajaokuta-Warri rail line development, according to one of the contractors that handled the project, Julius Berger. It does not show the Port Harcourt-Maiduguri rail corridor.
Photos of vandalized railway lines 
AFP Fact Check traced the remaining photos to Facebook posts from January 2021, credited to Iroegbu Emenike, the publisher of local online media outlet Abia Facts Newspaper.
A search conducted on Facebook led to the original version of the images on Emenike's timeline. There is no evidence the images were previously published on social media, according to data from CrowdTangle.
Emenike's images were published alongside a link to an online report about the repeated cases of theft of railway lines in Isuikwuato local council area of Abia state. AFP Fact Check confirmed the presence of a railway facility in Isuikwuato called Ovim Station.
Although the damaged section resulting from the theft forms part of the route slated for redevelopment between Port Harcourt and Maiduguri, these particular images are not evidence of general neglect.