Black Lives Matter did not release flyer describing whites as 'the enemy'
A photo of a flyer describing white people as "the enemy" and which is attributed to Black Lives Matter has been shared tens of thousands of times on social media. But the organization said it did not release it, and the flyer's message contradicts the group's stated beliefs.
"A friend of mine received this in her mailbox, IN MY TOWN!!!! This concerns me. Do you really think BLM is about justice and peace?! Or are they, ALL the people who are using the platform, just spreading hatred? It's pretty clear what the agenda is... Shame," a post shared more than 27,000 times on Facebook says, next to a photo of a flyer that includes the Black Lives Matter logo. 
"WHITE-men, women, children * You are the enemy," the text on the flyer says.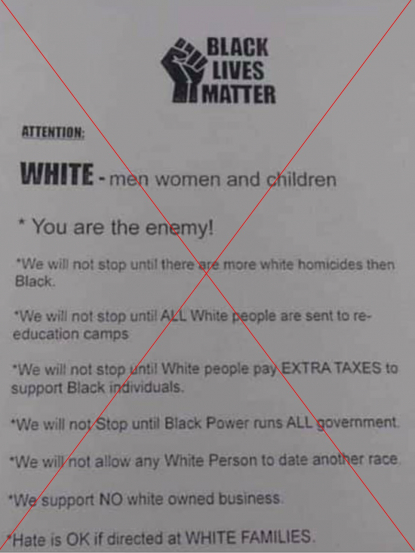 A screenshot of a flyer falsely attributed to Black Lives Matter taken on July 9, 2020
Similar photos circulated on Facebook here, here, and here, on Instagram here and here and on Twitter here, here and here. 
Black Lives Matter has gained increasingly broad support since the death of George Floyd in Minneapolis police custody on May 25, 2020, which sparked weeks of rallies across the United States and worldwide. But the group has also been the target of misinformation, including social media posts that seek to undermine its aims and values.
Contacted by AFP, the organization denied any involvement in the release of the flyer. 
"BLM Global Network did not release any flyer with the 'white enemy manifesto' nor was it posted or shared on any of our social accounts," Kailee Scales, managing director of the Black Lives Matter Global Network, said by email. 
It "encourages anyone interested in or apart of our movement to seek messaging from trusted and official sources -- such as our BLM Global Network social feeds (@blklivesmatter), our emails, and our official Black Lives Matter website rather than unknown or untrusted sources claiming BLM Global Network's name," she added. 
The flyer's message also contradicts Black Lives Matters' description of its beliefs.
"We acknowledge, respect, and celebrate differences and commonalities. We work vigorously for freedom and justice for Black people and, by extension, all people," its website says.
A search on CrowdTangle, a social media monitoring platform, shows that posts with the photo were first shared in early June 2020, but AFP could not determine the originator of the flyer.