Biden's Texas campaign director was not arrested for election fraud
Social media posts and an online article claim a top staffer from Joe Biden's campaign team was arrested for electoral fraud. This is false; court records indicate that Dallas Jones, a political consultant hired to oversee the campaign in Texas, was accused of, but not arrested for, ballot harvesting during a case that was eventually dropped; and Houston police, a county representative and a lawyer confirmed he was not detained. 
"Biden Campaign Director Arrested for Electoral Fraud," reads the headline of a November 15, 2020 article by a Britain-based website, later naming Jones as the culprit. According to social media tracking tool CrowdTangle, the article has been shared more than 29,000 times on Facebook and to nearly 390,000 followers on Twitter.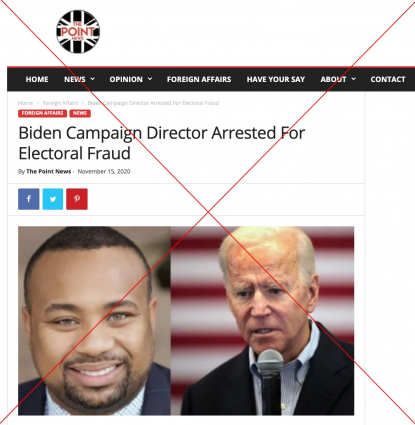 Screenshot of an article with a false headline, taken on November 19, 2020
The claim was repeated in a November 16, 2020 Facebook post featuring a photo of Jones: "Biden's Campaign Dir. Was Just ARRESTED For Electoral FRAUD." 
Screenshot of a Facebook post with a false claim, taken on November 19, 2020
Some posts, such as here and here, claim to show a picture of Jones's supposed arrest.
Screenshot of a Facebook post with a false claim, taken on November 19, 2020
A reverse image search shows the photo is actually of Cuba Gooding Jr, an actor who was arrested in 2019 for sexual misconduct. An Associated Press video captured the arrest.
The misrepresentation is another example of US election disinformation.
Donald Trump has so far refused to concede to Democratic president-elect Biden, despite calls from world leaders congratulating the former vice president on the win and media projections that Biden has earned a winning 306 electoral votes to Trump's 232. 
The Trump administration has filed numerous lawsuits over alleged irregularities, none of which has yet had any major effect on election results. 
Jones, based in Houston, was tapped in September to serve as Biden's political director in Texas.
Later that month, Republicans in Harris county -- which contains Houston -- filed a petition to stop a county clerk from extending when and where early voting could happen in the county.
The request was denied, but the petition contained two affidavits, one from a former Houston police officer and another from an ex-FBI investigator, which accused Jones and three others of partaking in an illegal ballot harvesting operation in Harris county.
Jones did not reply to AFP's request for comment at the time of this article's publication, but told the New York Times on November 17 that the claim was a fabrication. "I was not arrested," he said. "These are categorically made-up allegations. They are baseless."
Houston Police Department spokeswoman Jodi Silva confirmed to AFP in a telephone call that Jones was not arrested, nor have charges been brought against him.
Harris County records also do not indicate charges or an arrest.
Elizabeth Lewis, a spokeswoman for the Harris County Clerk's Office, described claims that Jones was arrested and that election fraud occurred in the county as "unsubstantiated."
Lewis said in an email: "There is no concern over the integrity of this election."
Douglas Ray, a lawyer who represented the respondents in the Harris county petition, told AFP in an email: "I am not aware that anyone has been arrested nor that there is even an investigation beyond the self-appointed 'investigators' whose affidavits were attached to that application for writ of mandamus (which was dismissed).
"As far as I'm concerned, these allegations are fantasies." 
AFP Fact Check has debunked dozens of false and misleading claims about the US 2020 presidential election, available here.
EDIT: This story was updated on November 20, 2020 to fix the quotation punctuation in paragraphs 12 and 17.

This fact check is available at IFCN's 2020 US Elections FactChat #Chatbot on WhatsApp. Click here for more.