This altered image originally showed city mayors with a businessman, not a communist leader
An image that purports to show city mayors from the Philippines posing with the leader of the Community Party has been shared in multiple Facebook posts which claim the picture is evidence of links between the public officials and the communist party. However, the image has been digitally altered: the original photo showed the politicians posing with a business tycoon.
The image was posted here on Facebook on December 30, 2020.
It appears to show the leader of the Communist Party of the Philippines, Jose "Joma" Maria Sison (centre) alongside Pasig City Mayor Vico Sotto (left) and Manila City Mayor Isko Moreno Domagoso (right).
Tagalog-language text superimposed on the image reads: "Evidence against Joma Sison and Mayor Isko Moreno and Mayor Vico Sotto, you be the judge of their links with Joma Sison."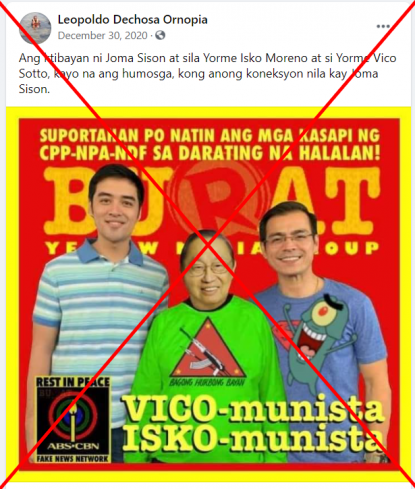 (A screenshot of the misleading post taken on May 18, 2021)
The image is overlaid with a text wordplay that combines Sotto's and Domagoso's names with the Tagalog word for communist. The text claims they are members of the Communist Party and its armed rebel wing.
The image circulated online amid a torrent of misinformation that has put activists, journalists, politicians and lawyers in the firing line as President Rodrigo Duterte's government and military out alleged supporters of a decades-old communist insurgency.
AFP has previously debunked similar accusations known locally as "red-tagging" here, here and here.
The same image was also shared on Facebook here, here, here and here.
However, the picture has been digitally altered.
Reverse image searches and keyword searches on Google found the original photo showing Sotto and Domagoso with a Philippine entrepreneur and not Sison.
The original photo was published here on the website of the Manila City government on July 20, 2019.
The original photo caption reads: "Manila City Mayor Francisco 'Isko Moreno' Domagoso poses for a photo with Pasig City Mayor Vico Sotto and businessman Manny V. Pangilinan after the 'MVP Superhero Fun Run.'"
Pangilinan's image had been digitally replaced with Sison's.
The original photo also appears in this report by Philippine news group ABS-CBN on July 21, 2019.