Xenophobic violence in South Africa: Watch out, old photos are circulating online
As emotions run high over deadly xenophobic violence in South Africa, various misleading photos and videos have been circulating online. Among them are two photos showing men fighting in the street, which have been used by various Nigerian websites. While both pictures show unrest linked to immigration in South Africa, neither of the photos is recent -- both of them were taken in previous years and show earlier waves of xenophobic violence.
Nigerian outlet Legit.ng posted a set of four pictures on Facebook, alongside a caption which claims they show xenophobic violence on September 2.
"In these pictures taken today September 2 in South Africa, South Africans are beating, killing, burning and destroying Nigerian shops in xenophobic attacks that is spreading across the country," reads the caption on the post, which we've archived here. The post, which sources the images to Twitter, has been shared more than 1,000 times.
A screenshot of a Facebook post by Legit.ng, taken on September 4, 2019
The same photos have been used by other Nigerian websites to illustrate the current unrest in South Africa, including here and here. 
As reported by AFP, at least five people have been killed in a wave of violence in South Africa since the start of September, linked to tensions over immigration.
However, reverse image searches show that two of the photos used in the Legit.ng Facebook post were taken in previous years and do not show this week's violence.
The first shows a man in a striped shirt bent over as a man in a white shirt kicks out. A reverse image search on Google shows that this photograph was taken by AFP's chief Africa photographer, Marco Longari, in April 2015. You can find it here on the AFP Forum website.
"A local taxi driver is pushed around during a confrontation with foreign nationals in the Johannesburg Central Business District on April 15, 2015," reads the caption. 
The photo as seen on the AFP Forum website, which confirms it was taken in 2015
The second photo shows the bare back of a man bent over in the middle of what appears to be a fight, with a woman to his right holding a rock. Similarly, this photograph does show xenophobic violence -- but back in 2017. It was taken by a Reuters photographer and can be found, among other places, in this BBC report about tensions over immigration in South Africa. The caption says it shows Nigerians being attacked in Pretoria.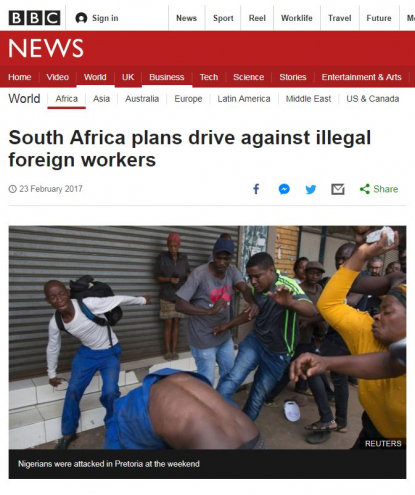 A screenshot showing the photo of an attack on Nigerians in South Africa, on the BBC website in 2017
As for the other two images used in the Legit.ng post, we haven't yet been able to trace their origins. If you know where and when they were taken, you can contact us here.
Five people, most of them South Africans, have been killed and at least 289 have been arrested since the violence flared on Sunday.
Dozens of shops have been destroyed in Johannesburg and nearby Pretoria, the country's political capital.
Trucks suspected of being driven by foreigners have also been torched in the southeastern province of KwaZulu-Natal.
South Africa is a major destination for economic migrants from neighbouring Lesotho, Mozambique and Zimbabwe. But others come from much farther away, including Nigeria.
The influx has led to sporadic outbreaks of violence against foreign businesses, sparked by the perception that jobs are being taken away from South Africans.
In 2008, xenophobic violence left 62 dead, while in 2015, seven people were killed in attacks in Johannesburg and Durban.