This video was taken in Bangladesh in February 2021, weeks before a ship blocked the Suez Canal
Aerial footage showing dozens of ships floating in the sea has been shared tens of thousands of times on Twitter, Facebook and Weibo, alongside a claim it shows vessels waiting to cross Egypt's Suez Canal after a massive container ship blocked the key trade route in March 2021. The claim is false: the video was in fact taken in Bangladesh in February 2021, weeks before the Suez Canal ship became stuck.
The video was posted on March 30, 2021 in this Facebook post, where it has been viewed more than 2,500 times. 
"Taiwan's giant ship ran aground on the Suez Canal, with more than 300 ships waiting to cross in both directions," the Chinese-language caption reads in part.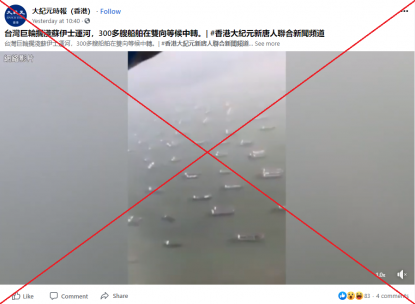 Screenshot captured on March 31, 2021, of the misleading Facebook post
The Suez Canal reopened to traffic on March 30, 2021, almost a week after the huge container ship MV Ever Given became stuck and blocked a major artery for global trade, AFP reported here.
The footage was also shared here, here and here on Facebook, here, here and here on Twitter, and here and here on Weibo alongside similar claims. It was also broadcast by Chinese state-run media including newspaper People's Daily here and television broadcaster CCTV here.
The claim, however, is false. The original video was filmed in Bangladesh weeks before the Ever Given ship became stuck in the canal on March 23, 2021.
A reverse image search using keyframes extracted from the video found the same footage published here in February 2021 by a LinkedIn user listed as Country Head at Pacific International Lines (PTE) in Bangladesh, with a caption saying it was filmed during a short flight from Bangladesh's port city Chittagong to the capital city Dhaka.
The user Sujeeva Salwatura confirmed he filmed the video in late February in a message to AFP on April 1, 2021.
"I did it during my domestic flight from port city Chittagong to Dhaka 23rd feb," he said.
The Egyptian media platform Matsda2sh responded to the false news on social media, and concluded that the video was first published by an official working for an Asian shipping company in February.
The same video was also debunked in Arabic language here, Spanish here and Portuguese here.
CORRECTION 05/04/21 - This article previously stated that Pacific International Lines was an airline. It is in fact a shipping company.