This video was taken in 2018 when former US president Barack Obama visited Kenya
A video viewed thousands of times on Facebook has been shared alongside claims that it shows former US president Barack Obama arriving in Kenya for the funeral of his grandmother who died in March 2021. But this is false: the footage is old and shows Obama's 2018 trip to his father's ancestral land in Kenya to promote the launch of a sports facility that his half-sister founded through her charitable foundation.
"Barack Obama arrives in Kisumu heading to Kogelo for his grandmother's funeral," reads a Facebook post published on March 29, 2021, along with a video viewed more than 100,000 times.
In the clip, two men can be heard describing the scene live as a  motorcade whisks Obama from Kisumu International Airport in Kenya to his father's ancestral village of Kogelo, in the country's west.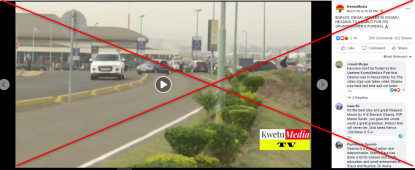 A screenshot of false Facebook post, taken on March 31, 2021
Obama's father, also called Barack, was a senior economic advisor in the Kenyan government. He was raised by his father's third wife, Sarah -- making her Obama's step-grandmother. 
Sarah Obama (99) died on March 29, 2021, at a hospital in western Kenya, as AFP reported.
However, the footage of Obama's Kenya visit is unrelatd to her death or funeral – it was filmed three years ago.
Old video
A Google search of the keywords "Obama arrives in Kisumu" reveals the exact footage, aired on July 16, 2018, by a local television station, Citizen TV.
A further search, this time with the date, led to news reports (here and here) about the trip, his first to Kenya as a former US leader. He previously visited in 2015 during his second term of office.
The 2018 trip saw Obama visit his step-grandmother in Kogelo, where he also helped open a sports facility.
Former US president, Barack Obama with his step-grandmother Sarah and half-sister, Auma Obama(R) at the opening of the Sauti Kuu Resource Centre in Kogelo, western Kenya, in 2018 (AFP / Tony Karumba)
Obama's tribute
The former US president paid tribute to his step-grandmother, describing her as a "stabilising force" in the family. 
However, he did not attend the funeral in Kogelo (reported here and here) on March 30, 2021.