This video shows soldiers performing a stunt at a 2016 military parade in Iran
A video has been shared hundreds of thousands of times in multiple Facebook posts that claim it shows Afghan soldiers failing to demonstrate martial art skills at a military ceremony. The claim is false; the video in fact shows Iranian soldiers performing a stunt at a military parade in 2016. 
The one-minute video was published here on Facebook on January 2, 2017. It has been viewed more than 485,000 times and resurfaced in Pakistan in January 2021 in Facebook posts such as here and here.
The post's Urdu caption translates as: "Afghan soldiers copying Pakistani army."
The video appears to show senior military officials watching a martial arts stunt in which soldiers fail to shatter a vase with flying kicks.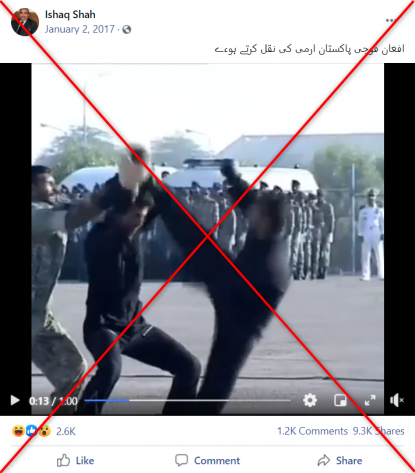 A screenshot taken on February 6, 2021, of the misleading Facebook post.
The claim, however, is false.
A reverse image search on Google using keyframes from the video found that it in fact shows soldiers in Iran, not Afghanistan. 
The botched stunt was widely reported in 2016, including in this Dubai-based Al Arbiya television report headlined "Awkward! Iranian military parade mocked after failed stunt."  
Below is a screenshot comparison of the video in the Al Arbiya report (L) and the misleading Facebook video (R):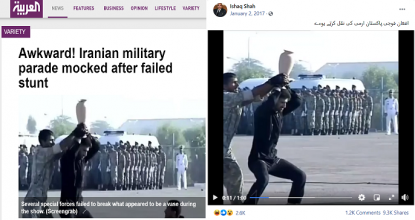 Screenshot comparison between the video in the Al Arbiya report (L) and the misleading Facebook video (R)
The same video was posted here on RT's YouTube channel with the title "Iranian military vs vase: Epic fail."
The video description reads: "Iranian military trying to break what appears to be a vase."
An AFP correspondant in Iran confirmed that a male voice narrating the video is speaking Persian.
Up until 30 seconds, the commentator is naming martyrs "who in the defense of Iran's waters assaulted the enemy bravely and gifted us this peace and security. We hold the memories of all these martyrs dear." 
YJC, Iran's state TV affiliated news agency, reported on the video in this link posted on September 29, 2019.
Deputy army commander Habibollah Sayari told YJC that the event was a "set up." 
"We made some tough vases so that our boys couldn't break them (as a joke), but the video wasn't supposed to be seen on social media."
The agency says that the event was part of an army programme from the year 1395 (Persian calendar), which would fall between March 2016 and March 2017.