Video shows a plane used for drug smuggling and seized by the army in Guatemala
Footage of an aircraft taking off from a dirt runway has been circulating on social media in Nigeria alongside a claim that the video shows illegal miners smuggling gold out of the country's northern Zamfara state to the United Arab Emirates. The claims add that the gold is exchanged for ammunition used by bandits in the state. This is false; the video clip was filmed in Guatemala's northern region of Petén in January 2020 when soldiers seized the plane, used for narco-trafficking, and flew it to a local military base.
"See how they built a bush runway and move gold out of Zamfara. Sai Baba!!! (sic)" reads the caption on this Facebook post published with a video clip. Since March 14, 2021, the post has been shared nearly a thousand times.
The video shows an aircraft with registration number N818LD taking off from a dusty strip surrounded by bush and jungle. Its wings and tail are branded in blue and white colours.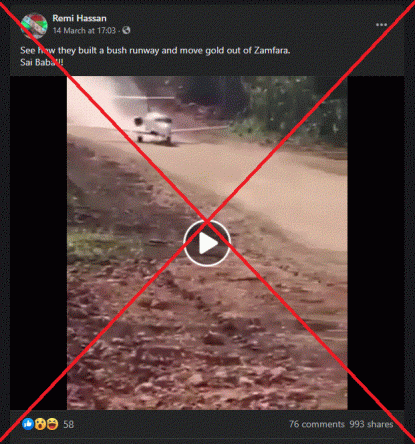 Screenshot taken on March 19, 2021, showing the false Facebook post
The clip has also circulated on Instagram and elsewhere on Facebook with a claim that it shows "how GOLD mined from Zamfara State in Nigeria is flown out of the country" to Dubai in the United Arab Emirates.
Social media posts in other countries repeat the claim but allege the gold was smuggled from Venezuela.
However, these claims are false. The video was taken in Guatemala in January 2020 and the smuggling, in this case, was linked to drugs.
Gold smuggling in Zamfara
Zamfara is a mineral-rich state located in northwestern Nigeria. It has significant gold deposits, but the state has witnessed a rise in kidnapping, armed robbery, and other forms of banditry in the region.
Following last month's abduction of more than 300 schoolgirls from Zamfara's Jangebe community, the Nigerian government imposed a no-fly zone and prohibited all mining activity.
"There is a strong suspicion that some of those choppers are being used to ferry arms for bandits and also to evacuate gold and illegally smuggled out of the country," presidential spokesperson Garba Shehu told Daily Trust, a Nigerian daily newspaper.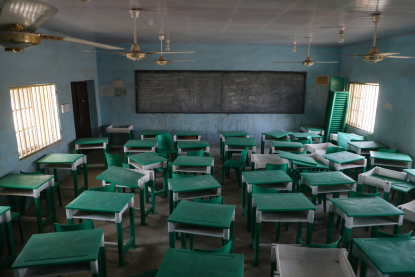 An image showing a deserted classroom in Zamfara's Jangebe village where over 300 schoolgirls were kidnapped (Photo Kola Sulaimon / AFP)
Despite the suspicions that planes are being used to smuggle gold out of Zamfara, the footage circulating on social media is unrelated to events in Nigeria.
Plane footage from Central America
The video shows a military transfer of a Hawker 800 business jet to a local air force base in Petén, Guatemala. The jet had been used in a drug trafficking operation before it was discovered by the Guatemalan army.
Using the InVID WeVerify tool, AFP Fact Check ran several reverse image searches on keyframes of the video and found previous versions of the clip in Facebook posts from February 2020. Captions from the posts describe an incident in which Guatemalan authorities discovered a "narco-jet" used to traffic drugs.
"The jet was landed on this dirt road at night by drug runners who traditionally use careful route planning….A Guatemalan Air Force pilot actually flew it out and the aircraft made it safely to a Guatemalan Air Force installation after the salvage flight. Investigations continue," one of the captions reads.
AFP Fact Check used keywords from the posts, such as "Guatemalan Air Force pilot" and "aircraft on a dirt road", and found an online publication by Guatemalan newspaper La Hora about an interception of suspected drug traffickers. 
According to the article, drug traffickers had abandoned the aircraft and the illicit drugs and weapons onboard on January 27, 2020, after a confrontation with the military.
The photo in the La Hora article can be traced to a tweet by the Guatemalan army, also from January 27, 2020. The jet's physical appearance in these images matches the aircraft seen in the viral footage, and the two planes have the same ID number: N818LD.
Image showing similarities between a screenshot of the footage and Guatemalan Army's photo
The drug-running jet was discovered in San Andrés, Petén, according to a follow-up tweet by the army. This tweet also includes other images of the aircraft, which was flown out to the Northern Air Command in Petén by a Guatemalan Air Force pilot.
#EjércitoGT a través de la Fuerza Aérea Guatemalteca traslada vía aérea a personal del @MPguatemala, quienes realizarán proceso legal en Jet Hawker 800 localizado en San Andrés, #Petén.#365DíasAlServicioDeMiPatria pic.twitter.com/2TSBYI89Bs

— Ejército Guatemala (@Ejercito_GT) January 27, 2020

Both the Guatemalan Prosecutor's Office and the country's Ministry of Interior also tweeted about the incident on January 27, 2020.
According to a separate statement released by the ministry, "1,700 packages of cocaine" were recovered during the operation, which was prompted by "the detection of a flight not registered by the Guatemalan Army's radars".
Furthermore, authorities in Zamfara state also denied that the video was filmed in Nigeria.
"The forest over which the aircraft was flying is not even in Nigeria, talkless of Zamfara state," Ibrahim Dosara, the state's Commissioner for Information, said in a Facebook post.
In Guatemala and the rest of Central America, international drug cartels often use aircraft, boats and submarines to transport drugs and money. The Petén "narco-jet" seizure was the third in 2020. AFP also reported on the event.