This video shows mass prayers in Russia during Ramadan 2019
A video has been viewed hundreds of thousands of times on Facebook along with a claim that it shows Muslims in Russia praying without masks or social distancing during Ramadan in 2021, amid the pandemic. The claim is false: the video is actually from 2019, before Covid-19 lockdowns, social distancing and masks became standard practice in many countries.
A video showing Muslims praying during the month of Ramadan was posted on April 30, 2021, in this Facebook post, where it has been viewed more than 218,000 times. 
The two-minute, 30-second video is an English-language news report from Singaporean broadcaster Channel News Asia (CNA) about Ramadan celebrations in Moscow, Russia. The footage shows congregants praying en masse and without wearing any masks.
The Malay-language caption says: "There is no distance during prayers... in Russia .."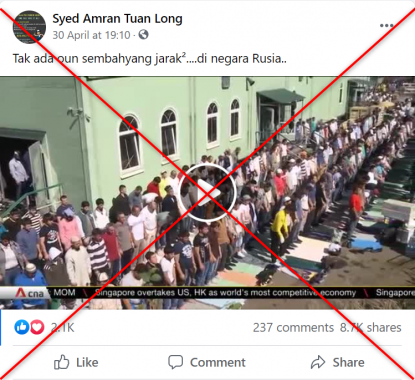 Screenshot of the misleading Facebook post taken on May 5, 2021
During the Islamic holy month of Ramadan, Muslims perform special prayers called Tarawih.
For 2021, in Malaysia and Singapore, local authorities restricted mass gatherings for prayers according to the severity of the pandemic outbreak in their respective areas.
The video has also appeared in multiple Facebook posts alongside a similar claim, including here, here and here, where the footage has been viewed more than 160,000 times.
The claim, however, is false.
A keyword search on Google found the same video posted here on May 29, 2019, on the official YouTube account of Channel News Asia with the title "Mosques in Moscow overflowing during Ramadan".
The 2019 video's description reads: "Moscow has had a large Muslim population for hundreds of years. During the holy month of Ramadan, mosques in the Russian capital are overflowing."
Below is a screenshot comparison of video from the misleading post (L) and the genuine news report from CNA (R):
Screenshot comparison of video from the misleading post (L) and the genuine news report from CNA (R)
The first major outbreak of Covid-19 was detected in December 2019 in the Chinese city of Wuhan. Here is WHO information on the start of the novel coronavirus outbreak.