This video shows a man being handcuffed in 2019 and he was not an FBI agent, police say
A video has been viewed millions of times in multiple Facebook and Twitter posts in early June 2020 alongside a claim it shows the arrest of a black FBI agent. The posts were published after nationwide protests against police brutality and systemic racism broke out across the US. The claim is false; US police said the man in the video is not an FBI agent, adding the clip shows an incident in June 2019.
The video has been shared more than 16,000 times after it was posted here by an Australia-based Facebook user on June 1. 
The five-minute 19-second video shows an altercation between a black man and several police officers.  
The post's caption states: "Cop racially profiles an undercover FBI agent / NOW do you SEE IT? #ShareNow #GeorgeFloyd." 
George Floyd was an unarmed black man who died in police custody in Minneapolis on May 25. Police charged 44-year-old police officer Derek Chauvin with second-degree murder after he was filmed kneeling on Floyd's neck for almost nine minutes shortly before he died. His death has sparked widespread protests against police brutality and systemic racism in the US, AFP reported here.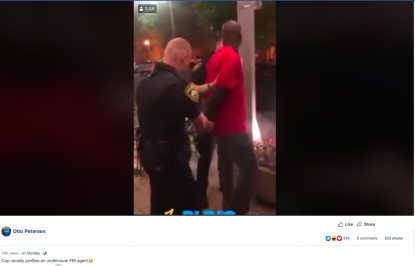 A screenshot taken on June 3, 2020, of the misleading post by Facebook user Otto Petersen
The video was shared tens of thousands of times by other Australia-based Facebook users here, here and here alongside an identical claim. It has also been viewed millions of times on Twitter here and here. 
The footage and misleading claim also circulated on social media in other languages, including Dutch, French, Portuguese, Spanish and Turkish. 
The claim is false; US police said the man was not connected to the FBI, adding that the incident occurred in June 2019. 
A keyword search on Google found one of the earliest versions of the video posted here on Facebook and here on Instagram on May 30, 2020. However, the users state in both captions: "Somethin' been telling me to hold on to this video over a year now". The posts also claim the footage was recorded in Rochester, a city in the US state of Minnesota.
A keyword search found this statement released by the Rochester Police Department (RPD) on June 1, 2020: "A video was shared through social media on May 30, 2020 from an occurrence at 1:00 a.m. on June 1, 2019, a year ago today.  The Rochester Police Department (RPD) officers were assigned to work the downtown bar and entertainment area." 
In addition, the RPD said: "Contrary to social media rumors, the individual [arrested in the video] was not a Federal Bureau of Investigations (FBI) agent."
Man in the video 
Twitter users who presented themselves as friends of the black man in the video took to the platform to defend him. One of the users identified the man as a paramedic named Atter. 
The Twitter users directed AFP to a Facebook user named Atter Monydel, who shared the video on May 30, 2020, alongside a caption: "I remember this. That shit wrong." 
Monydel's Facebook profile indicates he works as a paramedic in Rochester, Minnesota, and is originally from Yuba, South Sudan. His Facebook profile picture also corresponds with the man being interrogated in the video in the misleading posts. 
Monydel did not respond to a request for comment from AFP. 
Monydel later issued a clarification in this June 5 Facebook post: "I am Atter Mogndal the individual arrested by the police in the video that gone viral... There is even a version that notes me to be an FBI agent. I am not a FBI agent nor do I work for any police agency."