This video shows flooding in Mexico, not in Kenya
A video of cattle being swept away by floods has been shared a hundred times on Facebook, with a claim that it took place in West Pokot County in Kenya. However, the claim is false; the video shows floods in Mexico's Nayarit state.
This video was posted on Facebook on August 13, 2020. The caption on the post reads "West Pokot floods".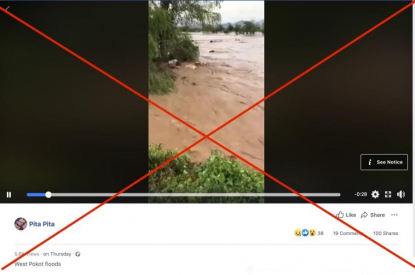 Screenshot of the misleading Facebook post, taken on August 19, 2020
The same video was shared in other Facebook posts with similar claims here and here on the same date. 
However, the claim is false. By conducting a reverse image search on keyframes from the video using the WeVerify verification tool, AFP Fact Check found the same video posted on several Mexican news sites in July here, here, here and here. 
According to the news reports, the video shows cattle swept away by floods in Nayarit state in western Mexico. Due to heavy rains caused by Hurricane Hanna on July 27, 2020, the Zacualpan river overflowed, causing damage and loss of livestock.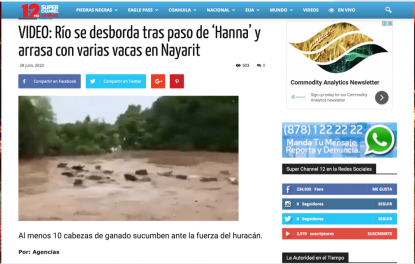 A screenshot from Mexican website Super Channel 12, taken on August 21, 2020
No flooding in West Pokot, Kenya
Meanwhile, no floods have recently been reported for the county of West Pokot, Kenya, according to the Kenyan meteorological department's assistant director, Dr. Richard Muita. 
"It has been raining upstream in the highland Baringo area. Therefore, Lake Baringo, around Nakuru and Rift Valley lakes are full, but there were no floods. There's no heavy rain in the West Pokot area," he added.