This video shows a crowd at a store opening in Saudi Arabia in 2019
Footage of a large crowd has been viewed hundreds of times in multiple posts on Facebook alongside a claim it shows people queuing for the opening of a movie theatre in Saudi Arabia. The claim, however, is false; the footage actually shows a crowd jostling at a store opening in Saudi Arabia in 2019.
The one-minute 37-second video was published on Facebook here on September 21, 2020.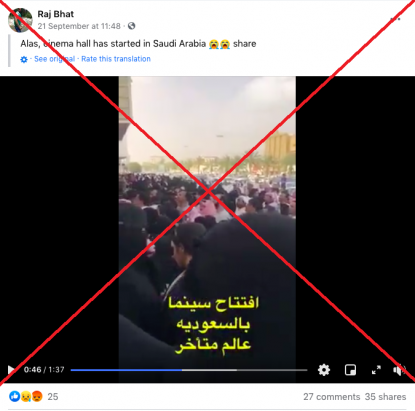 Screenshot of the misleading Facebook post taken on September 29, 2020.
The post's caption reads: "Alas, cinema hall has started in Saudi Arabia, share."
The Arabic text superimposed on the video translates to English as: "Of all over the world, opening of cinemas in Saudi Arabia took place late."
Following a 35-year ban, Saudi Arabia opened its first cinema in April 2018, AFP reported here.
The video was also shared alongside a similar claim on Facebook here, here and here.
The claim is false.
Reverse image and keyword Google searches in Arabic found similar footage published on Twitter here on April 20, 2019.
The Arabic language tweet translates to English as: "People of Hafar al-batin in the place of YaBalash."
مهازل حفر الباطن في محل بلاش يابلاش pic.twitter.com/o61k5ccpTB

— ابو ماجد (@ha__md2) April 20, 2019
Hafar al-Batin is a city in eastern Saudi Arabia.
YaBalash is a chain of stores located in various Saudi cities. 
A keyword search in Arabic also found a local news report published on Twitter here on April 19, 2019, which details the store's location. It promotes its prices in riyals, the official currency of the Saudi kingdom. 
The Arabic tweet translates to English as: "Offers and discounts on the occasion of the opening of (Balash Yabalash store) 5-10 riyals only. Location: Hafar Al-Batin - King Abdulaziz Road, Eshara Real Estate - opposite Herfy."   
عروض وتخفيضات بمناسبة افتتاح ( بلاش .. يابلاش ) 5 - 10 ريال فقط

📌الموقع: حفرالباطن - طريق الملك عبدالعزيز اشارة العقارية - مقابل هرفي pic.twitter.com/our3n61SRz

— الساحات (@sl3sl) April 19, 2019
Herfy, the restaurant referenced in the tweet, is a Saudi fast-food chain. The restaurant on King Abdulaziz Road in Hafar al-batin can be seen on the chain's website here. 
At the one-minute and 12-second mark, the footage shared in the misleading posts also pans to show the Herfy restaurant.
The location of the restaurant can also be seen here in an Instant Street View image captured in July 2018.
Below is a screenshot comparison of Herfy in the misleading post (L) and Instant Street View (R):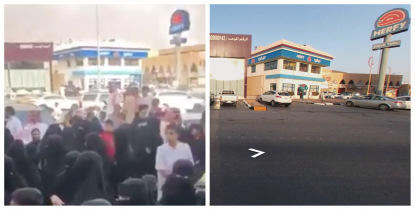 AFP also debunked the claim in Arabic here in April 2019.