This video purporting to show a fatal 'car race' in Arusha contains old footage
A video viewed tens of thousands of times on Facebook purports to show a car race in Arusha, Tanzania, that turned deadly on April 21, 2019. Media reports in neighbouring Kenya initially said at least eight people had been killed during a racing competition dubbed "Arusha Drive 3.0". Police in both countries later gave lower, if conflicting death tolls, and Tanzanian police denied that the accident happened during a car race. We're still trying to get to the bottom of what happened. What we do know for sure is that the video has been edited to include old clips that date back to 2015.
Kenyan reports, including articles here, here and here which we've archived, said on April 21 that at least eight people had been killed in the accident, both Kenyans and Tanzanians. Disaster reportedly struck in Oldonyo Sambu on the outskirts of Arusha. According to early reports, the car race  involved motor enthusiasts from Kenya and Tanzania and turned deadly when two cars crashed into each other before ramming into spectators.
However, Arusha police chief Jonathan Shana gave a press conference the following day in which he said that only two people had been killed -- and that there was no car race.
"I want to issue a warning about social media," Shana told reporters. "Some have given the figure of eight deaths and reported that this was a car race. None of that is true. There was no car race, and there were not eight but two deaths."
According to Shana, two cars crashed on the road when one of them sped up as the other was starting to turn.
Kenyan police also spoke on Monday of a "fatal road accident" in Arusha, saying three Kenyans had been killed.
The National Police Service wishes
to confirm that four Kenyans were involved in the fatal road accident involving two motor vehicles, that occurred yesterday in Arusha. One Lady and two men passed on while the fourth person escaped with injuries. 1/2

— National Police Service-Kenya (@NPSOfficial_KE) April 22, 2019
The video shared on the Facebook page of the Kenyan newspaper Daily Nation has been viewed more than 100,000 times. According to the caption, the clip shows what happened on Sunday before the crash.
"Video surfaces of how the Arusha street car racing event went down before deadly crash that left 8 dead. Witnesses said the cars crashed into each other before ploughing into a crowd of spectators," the caption reads.
A screenshot taken on April 24, 2019 shows the video on Facebook
The first part of the video shows an excited group of men cheering on as the drivers of two cars, green and silver, charge their engines before speeding off to the sound of cheering from spectators.
The same short clip was shared in this tweet and has since been viewed more than 8,000 times.
Screenshot taken on April 24, 2019 of a tweet claiming to show one of the cars involved in Sunday's accident in Arusha
We haven't yet been able to verify the source of this footage or confirm whether or not it indeed shows the scene before the car accident.
But comments on the video suggested that old clips had been used in the compilation.
Screenshot taken on April 24, 2019 shows Facebook comments on the video

Screenshot taken on April 24, 2019 shows Facebook comments on the video

Screenshot taken on April 24, 2019 on the Daily Nation's Facebook post claiming to show the Arusha 'car race' crash
One of the comments on the Facebook post led us to this Youtube video titled "Arusha Drags" and published on August 18, 2015. A close look revealed that this video, excluding the first 26 seconds, matches the footage posted by the Daily Nation -- proving that it does not show a race in Arusha on April 21, 2019.
We're still trying to confirm what happened in Arusha on Sunday and will update this post when we have more information.
In the Facebook video, you can see these two groups on either side of the road...
... The same two groups can be seen in the video uploaded to YouTube in 2015.
In the Facebook video, you see a car pulling forward in the left-hand lane...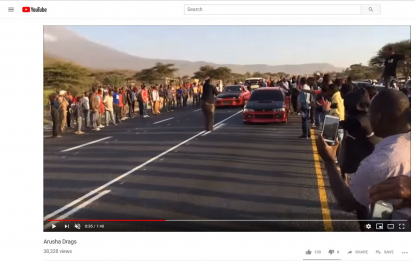 ... and the same car in the YouTube video.
On Facebook, you can see two silver cars in this shot filmed from a low angle...
... and the same silver cars in the 2015 video on YouTube.