Video of large Indian Muslim gathering shared in wrong context as India's virus death toll surges
A video has been viewed tens of thousands of times on Facebook and Twitter alongside a claim it shows crowds of Indian Muslims gathered during Ramadan in the southern Indian city of Hyderabad. The posts circulated online as India endured a huge second wave of coronavirus cases that has partly been blamed on large religious gatherings. But the video has been shared in the wrong context: it actually shows Muslims mourning the death of a cleric in the north Indian state of Uttar Pradesh.
The video was shared on Facebook on April 18, 2021. It has been viewed more than 13,000 times.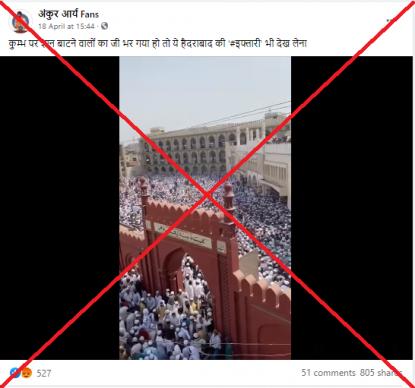 A screenshot of the misleading Facebook post taken on April 23, 2021
The post claims the video shows Indian Muslims gathered for Iftar -- breaking the day-long fast after sunset during the holy month of Ramadan.
The post's Hindi-language caption translates to English as: "The people should also see this Iftar feast if they are done with spreading knowledge over Kumbh".
The video circulated online as the Indian government faced criticism for allowing the Kumbh Mela -- a Hindu religious festival -- to be held in the north Indian town of Haridwar despite the country's mounting Covid-19 cases.
The 30-second video was also shared here, here, here and here on Facebook; and here, here, here and here on Twitter alongside an identical claim.
The video, however, has been shared in the wrong context.
A reverse image search of the video's keyframes extracted using InVID-WeVerify, a digital verification tool, combined with keyword searches, found similar footage shared in this Facebook post on April 16, 2021.
"The funeral prayer for Hazrat Maulana Abdul Momin Nadwi, ocean of knowledge and manager o Madrasa Anjuman Muainul Islam. May god bless his soul and place him high in heaven," reads the post's caption in Hindi.
(एक इल्म का समंदर) मदरसा अंजुमन मुआविन उल इस्लाम के मोहतमिम हज़रत मौलाना अब्दुल मोमिन नदवी साहब की नमाजे जनाज़ा अल्लाह हज़रत की मगफिरत फरमाएं ,जन्नत में आला मक़ाम अता करे

Posted by Ķàmal Sikandar on Friday, 16 April 2021
Similar videos of the event alongside photos of Maulana Abdul Momin Nadwi, a renowned Muslim cleric, were also shared here and here on Facebook post on the same day.
According to these Facebook posts, the event was held at Madrasa Anjuman Muainul Islam, an Islamic seminary in the Sambhal town of Uttar Pradesh state.
The video corresponds with images of the seminary on Google Maps here.
Below is a comparison screenshot of the buildings seen in the Facebook video (L) and the photo found on Google Maps (R) with identical elements highlighted in red by AFP:
Image comparing screenshots