This video first appeared in 2014 reports about migrants who drowned off the Libyan coast
A video has been viewed tens of thousands of times in multiple posts on Facebook, Weibo and Twitter that claim it shows people who committed suicide in the US after getting COVID-19. The claim is false; the video was published in 2014 news reports about a group of migrants who died after a boat sank off the coast of Libya.
The video was published here on April 5, 2020, on a Facebook group with more than 14,000 members. 
The one-minute 55-second video shows people in protective gear moving what appears to be bodies washed up on a beach.
Below is a screenshot of the misleading Facebook post: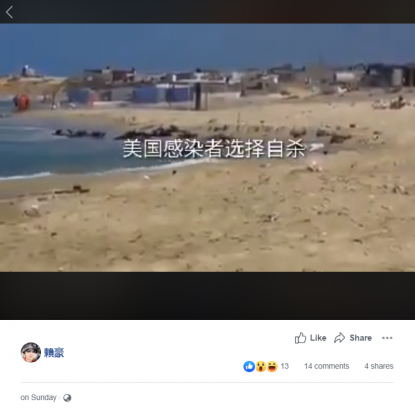 Screenshot of the misleading Facebook post
The Simplified Chinese characters overlaid in the video translate to English as: "Infected Americans choose to commit suicide".
More than 12,000 people have died of COVID-19 in the US alongside some 395,000 other confirmed cases as of April 9, 2020, according to the World Health Organisation. 
The video was also shared here on Facebook, here on Weibo and here on Twitter, alongside a similar claim. 
The claim is false.
A reverse image search on Yandex using keyframes extracted from the video found this identical footage. It was published by Turkish news site Haberler.com on Dailymotion, a video platform, on August 26, 2014.
The video was also included in this article on the Haberler.com website.
The article's Turkish-language headline translates to English as: "The sinking of a boat carrying illegal immigrants in Libya".
It reads, in part: "It is reported that the number of people who died as a result of the sinking of the boat carrying African illegal immigrants in Libya has exceeded 200. 
"The Navy spokesperson, Eyyub Kasım, has been searching at sea since Saturday to reach the corpse of immigrants in the sinking boat. He stated that his works are continuing."
The report credits the video to Turkey's state-run Anadolu Agency.
Below is a screenshot comparison of the video in the misleading Facebook post at its 36-second mark (L) and the Haberler.com video at its 30-second mark (R):
The incident was also reported by other local media, including the newspapers Posta and Takvim, and also on the news website Mynet.