Video does not show Hamas using children as 'human shields'
A video has been viewed tens of thousands of times in Twitter and Weibo posts that claim it shows a Hamas leader using children as "human shields" in the face of Israeli air strikes. The posts circulated online as deadly fighting erupted between Israel and Palestinian militants in May 2021. The claim is false: the video has circulated online since at least 2014. The man in the video can be heard chanting about Syrian President Bashar al-Assad, indicating the video relates to Syria.
"The children surrounded the leading cadre of Hamas, and smashed the Israeli drone beheading plan in one fell swoop!" reads the Chinese-language caption in this tweet.
The video, shared on May 19, 2021, has been viewed more than 65,000 times.
Screenshot taken on May 24, 2021, of the misleading Twitter post
The clip shows more than a dozen children gathered next to a man shouting in Arabic, while a second man loads a shell into a weapon in the foreground.
The same video was shared here and here on Twitter; and here on Weibo alongside a similar claim.
The video circulated online as tensions between Israel and Islamist group Hamas escalated into deadly clashes before a truce took effect on May 21, 2021.
The video, however, predates the recent Israel-Hamas conflict. 
A keyword search on Google found a longer version of the video published on YouTube here on February 13, 2014.
Corresponding visuals can be seen from the YouTube video's 22-second mark.
Below is a screenshot comparison of the video in the misleading post (L) and the YouTube video from 2014 (R):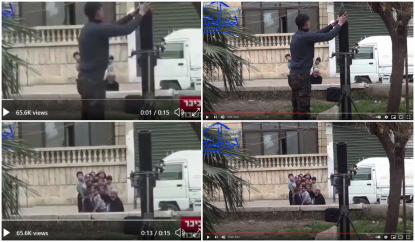 Screenshot comparisons between the Twitter video (L) and the YouTube video (R)
The YouTube video is headlined: "**MUST SEE** Syrian Kids Launching Mortar Together!" 
The caption reads: "After the brutal SAF-Barrel Bomb Attacks these syrian kids decide to give a answer to assad."
The Arabic logo on the top left-hand side of the YouTube video reads: "Jaysh Al Mujahideen [The Mujahideen Army]", which refers to a Syrian opposition group against the Syrian regime army and Islamic State group.
The YouTube video starts with people shouting "Allahu Akbar", or "God is greatest" in Arabic. The sound of shelling is also heard.
The man crouching with the group of children can be heard saying: "To all those who left Syrians alone…Thank God for the new generation who believes in the Prophet Mohammed. This generation will lead us to victory and defeat Bashar al-Assad."
AFP could not confirm when exactly the video was filmed. AFP's report on the Syrian war from February 8, 2014 states that more than 300 people were killed in battles across the country in a single day.
There was also a new round of talks between Syrian President Bashar al-Assad's regime and the rebels battling to overthrow him.