The video is doctored from a meme circulating online since 2016
A video viewed tens of thousands of times on Twitter purports to show Americans bursting into cheers in reaction to footage of US President Joe Biden tripping on the stairs while boarding Air Force One on March 19, 2021. Many social media users appear to have believed the video was genuine, although it originates from a meme showing football fans celebrating England's win against Wales at the UEFA European Championship in 2016.
The video was uploaded here on Twitter on March 20, 2021. It has been viewed more than 21,000 times.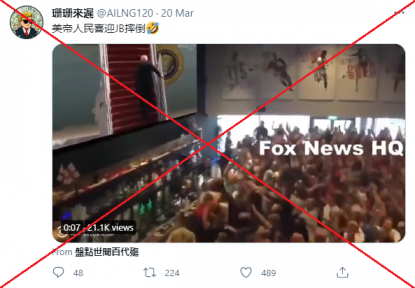 Screenshot captured on March 24, 2021, of the misleading Twitter post
The footage appears to show a crowd looking up at a TV screen, where US President Joe Biden is seen walking up the steps to board Air Force One. He trips and stumbles, apparently whipping the crowd into a frenzied celebration.
The words "Fox News HQ" and "Hannity" can be seen superimposed onto the crowd.
The tweet is captioned in Chinese: "US people welcomed JB's fall", alongside a laughing emoji.
Joe Biden lost his footing and tripped several times on March 19, 2021, while walking up the steps to Air Force One outside Washington.
The video appearing to show a crowd cheering Biden's fall was also shared here and here on Twitter.
Some users appeared to be misled by the video. 
"This is absolutely uncivilized manner.  Anyone who is pleased to see a person stumbling will stumble in the worst way. Get civilized, folks!" one comment read.
"The US people really disrespect their great president! What is freedom? This is freedom. I don't like you, and I can express it freely! I'm jealous!" another wrote in Chinese.
Screenshots of the comments taken on March 24, 2021
However, the footage is not genuine; it has been doctored from a meme.
Google reverse image searches using key frames extracted from the video found this similar footage published on June 17, 2016, by the YouTube channel of UK radio station Heart West Country. 
The footage is headlined: "Fans at Ashton Gate Stadium, Bristol, celebrate England winner against Wales at Euro 2016". According to the description, the video shows football fans watching England striker Daniel Sturridge's goal, securing England's win against Wales.
Below is a screenshot comparison of the misleading Twitter video (L) and the 2016 video by Heart West Country (R):
Screenshot comparison of the misleading Twitter video (L) and the 2016 video by Heart West Country (R)
Pub crowd reaction meme
Reverse image searches reveal the footage has been widely circulating online over the past years in a meme, where the TV screen showing the football match is replaced with various other scenarios, such as here, here and here.
A same scene captured from Ashton Gate Stadium has been uploaded on Google Maps here.

Screenshot comparison between the Twitter video (L) and the photo uploaded on Google Maps (R)
AFP has also debunked another video doctored from the same 2016 footage here.