Popular video meme misrepresents Toronto Raptors fans cheering an opponent's injury
A video shared thousands of times on social media platforms allegedly shows a crowd of Toronto Raptors fans in a bar erupting with joy upon seeing NBA star Kevin Durant getting injured. The scene is actually a montage that superimposed the video of the Golden State Warriors star player onto a video of English fans celebrating a goal during the 2016 UEFA European Championship.
"Toronto bar reacts to Kevin Durant's injury," is the only caption for a video posted on Twitter, Facebook, and Instagram by Barstool Sports, a sports and pop culture blog.
In the video, a crowd in a bar appears to be watching the June 10 NBA game and, in a remarkable display of unsportsmanlike behaviour, loudly cheers when Durant hobbles off the court, injured.
Screenshot taken on June 13, 2019 of a tweet from Barstool Sports
Screenshot on June 13, 2019 of a Facebook post by Barstool Sports
The video was posted simultaneously across platforms on June 11, one day after game five of the 2019 NBA finals, during which the Oakland basketball player ruptured his Achilles tendon in a fall. The video was viewed 1.1 million times on Facebook, and shared 3,500 times on Twitter.
However, the video is doctored. The footage of Durant's injury is superimposed onto another video of English football fans exultant after their team scored against Wales in  during a Euro 2016 match. Below is the full, unedited video of the bar scene, showing that it does not involve Toronto Raptors fans.
The scene took place at Bristol's Ashton Gate Stadium, in the bar area. This photo from the city of Bristol's website shows the location.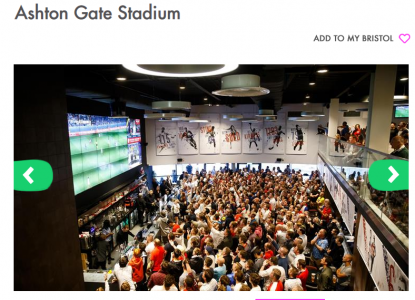 Screenshot taken on June 13, 2019 of the city of Bristol's website
The exuberant joy of the English fans has not gone unnoticed by the online world and in recent months the 2016 scene was turned into a template for humorous memes that replace the video of the football game with other video content that make the scene absurd.
One Facebook page replaced the England-Wales game on the screen with a DVD screensaver. Barstool Sports published the same video edited differently in April 2019 to generate clicks from the popularity surrounding the TV show "Game of Thrones."
Every Game of Thrones fan when Arya took out the Night King #GameOfThrones pic.twitter.com/43HTAnGvDv

— Barstool Sports (@BarstoolsTweets) April 29, 2019
Many internet users realized that the video was false and pointed out visual clues in the video that made the context in which Barstool Sports shared it impossible.
Definitely Fake - Lots of clues. Looks like a world cup goal in England several years ago because of ashtrays and lack of smartphones pic.twitter.com/A66aUEEERh

— Alex_Ari (@Alex_Ari) June 11, 2019
However, many others did fall for it, such as an ESPN analyst, who later corrected himself, or Facebook users who felt comforted in their dislike for the Ontario metropolis by the falsely reported behaviour of its basketball fans.
Barstool Sports later doubled down on its fake video with a tongue-in-cheek toned article claiming that Toronto fans are in denial of their reaction to Durant's injury.