US regulatory document circulates in misleading Facebook posts that undermine the Pfizer-BioNTech Covid-19 vaccine
A US Food and Drug Administration (FDA) document detailing the Pfizer-BioNTech Covid-19 vaccine has been shared in multiple Australian Facebook posts that sow doubt over the vaccine and note specifically how the FDA states it is an "unapproved vaccine." The posts, however, are misleading: the full FDA document explains how the Pfizer vaccine was granted emergency use authorization in the US and Australia's Therapeutic Goods Administration has also approved the vaccine.
The document was published on an Australian-based Facebook page here on March 13, 2021. 
One of the paragraphs in the document, which is circled and partly underlined in red, reads: "WHAT IS THE PFIZER-BIONTECH COVID-19 VACCINE? The Pfizer-BioNTech COVID-19 Vaccine is an unapproved vaccine that may prevent COVID-19. There is no FDA-approved vaccine to prevent COVID-19."
The Facebook post's caption reads: "People call us crazy for having concerns...seriously 
"I find it so interesting they're truthful about these things on paper (to save their butts) but on mainstream media, there's no peep of the truth.
"I've shared documents like this before and been fact-checked even though it's literally FACTS!."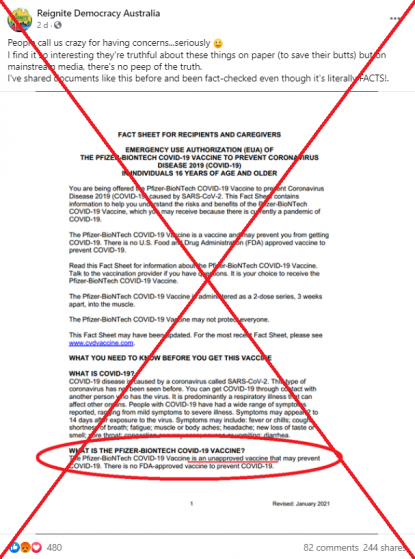 A screenshot of the misleading Facebook post as of March 15, 2021.
The document was also shared alongside similar claims on Facebook here and here.
The posts, however, are misleading. 
The full 6-page version of the FDA document — seen here — details how the Pfizer-BioNTech vaccine was granted emergency use authorization (EUA) on December 11, 2020 in the US.
"The EUA is supported by a Secretary of Health and Human Services (HHS) declaration that circumstances exist to justify the emergency use of drugs and biological products during the COVID-19 pandemic," the document reads. 
"In addition, the FDA decision is based on the totality of scientific evidence available showing that the product may be effective to prevent COVID-19 during the COVID-19 pandemic and that the known and potential benefits of the product outweigh the known and potential risks of the product."
The FDA adds here that the Covid-19 vaccines granted EUA undergo clinical trials "conducted according to the rigorous standards set forth by the FDA."
The Pfizer-BioNTech vaccine was also granted provisional approval in Australia by the Therapeutic Goods Administration (TGA). 
The authorization, which is valid for two years, was approved on January 25, 2021, and made the Pfizer vaccine the first Covid-19 vaccine to "receive regulatory approval in Australia."
"Following a thorough and independent review of Pfizer's submission, the TGA has decided that this vaccine meets the high safety, efficacy and quality standards required for use in Australia," the authorization reads.
The authorization adds that the approval comes with strict conditions "such as the requirement for Pfizer to continue providing information to the TGA on longer term efficacy and safety from ongoing clinical trials and post-market assessment."