US doctor makes false claims in video about Covid-19
A video from a Texas doctor warning against Covid-19 immunizations and touting drugs he says can treat the disease has been shared tens of thousands of times on social media. But medical experts say the physician's claims about the safety and efficacy of the widely-used vaccines are false, and medications he advocates are not recommended by health authorities.
"All about mRNA So Called Vaccines," says the title of a 17-minute video published on March 15, 2021 featuring Steven Hotze, a doctor and conservative activist from Texas, who heads the Hotze Health and Wellness Center.
It has been viewed more than 60,000 times on Rumble, and a February 26, 2021 article on his center's website including the video and a transcript has been shared more than 10,000 times on Facebook, according to the social media monitoring tool CrowdTangle.
Screenshot taken from rumble.com on March 25, 2021
As of late March 2021, more than 546,000 people in the United States have died from Covid-19. Multiple Covid-19 vaccines are being administered or are in trials around the world, and inaccurate claims about the shots are spreading across the internet.
More than 133 million Covid-19 vaccine doses have been administered in the United States. Most were Pfizer's and Moderna's mRNA vaccines, though a vaccine from Johnson & Johnson that uses different technology is also being used.
The US Food and Drug Administration (FDA) published a December 2, 2020 warning letter sent to Hotze about unapproved products that claim to offer protection against Covid-19 and promoted on his social media accounts and websites.
"We request that you take immediate action to cease the sale of such unapproved and unauthorized products for the mitigation, prevention, treatment, diagnosis, or cure of Covid-19," it said.
Below, AFP Fact Check examines some of the false or misleading claims Hotze makes in the video:
Claim 1: mRNA vaccines are not actual vaccines
Hotze claims that an mRNA Covid-19 vaccine is "not a vaccine at all. It is a synthetic messenger ribonucleic acid (mRNA) experimental gene therapy, and it works much differently than historic vaccines."
The mRNA shots against Covid-19 are the first to use the cutting-edge messenger ribonucleic acid technology, which differs from that of other vaccines. Instead of confronting the immune system with part of a virus in a weakened or deactivated form to build antibodies, it introduces a "blueprint" of the spike protein, part of the virus that the body can then recognize and fight if it encounters it later.
This is how mRNA vaccines work:
However, arguing that mRNA vaccines are not vaccines is "false" because "the protein produced is exactly the same as many/most vaccines," Jeffrey Cirillo, Regents' professor of immunology at the Texas A&M College of Medicine, told AFP in an email.
He explained that more protein is made by introducing mRNA and "that is why these mRNA vaccines work so well."
Grant McFadden, director of the Biodesign Center for Immunotherapy, Vaccines, and Virotherapy of Arizona State University, agreed that mRNA vaccines end up achieving the same goal as traditional vaccines.
"The mRNA vaccines indeed are true live vaccines that produce the intended antigen, the SARS-CoV-2 spike protein, at the site of injection," he said in an email, referring to the virus that causes the Covid-19 disease.
He disputed that the vaccines are gene therapy because "they do not change the genetic DNA of the host cells, and cannot alter the genes of the recipient's cells."
Stephen Johnston, director for the Biodesign Center for Innovations in Medicine at Arizona State University, also disagreed with the use of the term "gene therapy" to describe mRNA vaccines.
"Normally, gene therapy is considered to be when you introduce genes to repair a genetic defect," he said in an email. In the case of mRNA vaccines, "they are intended to prevent, not treat a disease."
Claim 2: Covid-19 vaccines do not provide immunity
Hotze also claims in the video that the vaccines are ineffective because they do "not provide the individuals who receive the vaccine with immunity to Covid-19, nor does it prevent the transmission of this disease."
Cynthia Leifer, associate professor of microbiology and immunology at Cornell University, disagreed and said that these vaccines do prevent the disease: after a person receives the vaccine, the immune system mounts a response that protects against Covid-19.
"Clinical trial data from hundreds of thousands of people show that these vaccines prevent 100 percent of serious disease, and 100 percent of death due to Covid-19," she said in an email.
"With nearly 300 million doses of multiple different Covid-19 vaccines worldwide, all the data show that vaccinated individuals are significantly protected from infection, and if they do get infected, they are less likely to get sick and probably much less likely to spread the disease," she added.
How the Pfizer-BioNTech vaccine uses genetic information from SARS-CoV-2 to stimulate the body's immune response
However, the ability of the current vaccines to prevent transmission of the disease is still not settled, as it is difficult to measure.
A February 19, 2021 article published by the journal Nature explains that "preliminary analyses suggest that at least some vaccines are likely to have a transmission-blocking effect. But confirming that effect -- and how strong it will be -- is tricky because a drop in infections in a given region might be explained by other factors, such as lockdowns and behaviour changes."
And Johns Hopkins University says that: "The vaccine is not 100 percent effective and we still do not know if someone who was vaccinated can develop asymptomatic infection and transmit the virus."
Claim 3: Covid-19 vaccines are unsafe
In the video, Hotze raises safety concerns about the vaccines, claiming that "an experimental gene therapy using synthetic mRNA to treat an infectious disease has never been attempted in humans, because of its failure in previous animal studies."
Although the Covid-19 vaccines are the first using mRNA technology to be authorized and distributed globally, research on using mRNA technology for vaccines started in the early 1990s and included promising tests on animals.
Arizona State University's Johnston explained that early use of RNA for vaccines "did induce very bad reactions," but it was found to be due to "sequences in the RNA that induce the 'danger' signals to the host immune system."
This was corrected by "developing RNAs that do not elicit this response," he said.
Over the past decades, scientific research on the technology brought promising vaccine candidates for other pathogens.
An article published on January 12, 2018, prior to the pandemic, on Nature's website said that "mRNA vaccines have elicited potent immunity against infectious disease targets in animal models of influenza virus, Zika virus, rabies virus and others, especially in recent years."
The mRNA vaccines for Covid-19 have been tested on nonhuman primates and on humans, and have been proven to be safe and effective, according to the CDC.
The video also includes claims that thousands of people have experienced severe adverse events after vaccination, including anaphylaxis or death.
US health authorities are tracking reports of adverse events on a platform called the Vaccine Adverse Event Reporting System (VAERS), to which anyone can submit reports. But the CDC warns of some of the limitations of the data on its website.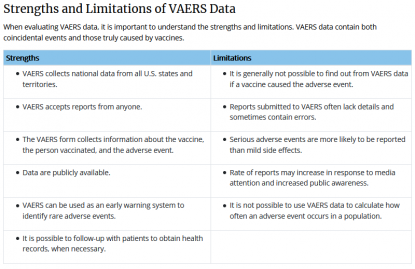 Screenshot taken from cdc.gov on March 26, 2021
The CDC said that "anaphylaxis after Covid-19 vaccination is rare" and that it "has not detected patterns in cause of death that would indicate a safety problem with Covid-19 vaccines."
AFP has previously debunked inaccurate claims based on VAERS data.
Claim 4: mRNA vaccines can make infections worse
Hotze claims that mRNA vaccines put recipients at risk for hyper-reaction of the immune system, and that they could actually make Covid-19 infections worse.
"The synthetic mRNA experimental gene therapy turns on the production of Covid-19 proteins, but it has no off switch. It just keeps on replicating, and the immune system keeps on mounting an immune response against it," he says.
This claim is false, according to medical experts and health authorities.
Cornell University's Leifer said that an off switch for the mRNA is not needed. "Cells can only make the spike protein for as long as they have mRNA."
She added that "the mRNA has no way to survive long-term. It can't insert into the genome, and it can't be replicated. It is a one-and-done. The cell will dispose of the mRNA and no longer make spike protein."
Texas A&M's Cirillo said that "the body is a natural off switch for any mRNA. There are enzymes in the body that degrade mRNA all the time" and although our immune response will remember seeing the virus protein, "there will not be any mRNA or protein from the virus after a few days."
According to the 2018 study published on Nature's website, "mRNA is degraded by normal cellular processes."
The Phase I/II study of the Pfizer mRNA vaccine published in August 2020 on the Nature website said that "RNA is required for protein synthesis, does not integrate into the genome, is transiently expressed, is metabolized and eliminated by the natural mechanisms of the body and is therefore considered safe."
The CDC also explains on its website that "once the instructions (mRNA) are inside the immune cells, the cells use them to make the protein piece. After the protein piece is made, the cell breaks down the instructions and gets rid of them."
Hotze also says there is a risk of "antibody-dependent enhancement reactions that increase the virus' ability to infect your cells" when confronted with it after vaccination.
While these types of reactions have been observed with prior coronavirus vaccines, "this has not been observed either in animals or in the thousands of people vaccinated (many of whom have been later exposed to Covid-19) with the mRNA vaccines," according to Cirillo.
Arizona State University's Johnston agreed that antibody-dependent enhancement "is a real phenomena, best shown in dengue."
"However, the basis is not the vaccine vector but the antibodies to the proteins of the virus.  So far there is little or no evidence of this being a problem with the Covid vaccines, whether gene vaccines, proteins or viral vectors," he said.
Arizona State University's McFadden agreed.
He said that vaccine-enhanced disease is a complication seen in "a tiny number of experimental vaccines, that appears only after a secondary exposure to the same virus, but this has never been observed with the Covid mRNA vaccines in people."
"In fact, there has never been a single case of lethal Covid disease in any vaccinated person to date," he added.
Claim 5: Hydroxychloroquine and ivermectin
Hydroxychloroquine sits on a shelf at Rock Canyon Pharmacy in Provo, Utah, on May 20, 2020 (AFP / George Frey)
Hotze claims that "it has been demonstrated in studies around the world that the use of ivermectin and hydroxychloroquine can safely prevent and treat the Covid-19 infection."
This is false, according to Dr Jason McKnight, clinical assistant professor at the Texas A&M College of Medicine.
"To date, there are no approved or known definitive treatments or prevention products for Covid-19," he said.
"Many medications are currently being evaluated and in clinical trials, but none have been accepted for approval by the FDA," he said, emphasizing that "the current best way to prevent Covid is social distancing, wearing a mask, and vaccination programs to minimize the spread of infection."
Hydroxychloroquine was touted by former president Donald Trump and his Brazilian counterpart Jair Bolsonaro.
But McKnight said that, "Multiple studies have shown that not only does hydroxychloroquine not prevent or treat Covid-19, but there can be adverse effects from the use of medication, and taking it may very well cause more harm than benefit."
On March 2, the World Health Organization said it "strongly advises against use of hydroxychloroquine to prevent Covid-19."
"High certainty evidence showed that hydroxychloroquine had no meaningful effect on death and admission to hospital," while other evidence showed "it probably increases the risk of adverse effects," the organization said in a statement.
Texas A&M's McKnight pointed to the results of a randomized clinical trial examining the potential effects of ivermectin against Covid-19 published in the Journal of the American Medical Association's (JAMA) website on March 4, 2021. It showed "no benefit of ivermectin when compared to placebo," he said.
The FDA does not recommend using ivermectin, given to treat parasitic infections, for the treatment or prevention of Covid-19
It said that "some initial research is underway," but that ivermectin can interact with other medications, including blood thinners.
The agency also noted that it has received "multiple reports of patients who have required medical support and been hospitalized after self-medicating with ivermectin intended for horses."
AFP Fact Check previously debunked a false claim that the US National Institutes of Health recommend the medication for treating Covid-19.
Claim 6: Herd immunity
At the close of the video, the Texas doctor says: "Let's allow this virus to run its course in society so that we can develop herd immunity, which is far safer and much more effective than this experimental gene therapy could ever be."
However, Texas A&M's McKnight said it is wrong to claim that it is "safer" to contract the illness than to be vaccinated.
He explained that "we are finding that many organ systems of the body can suffer long-term damage from Covid-19, in addition to the 'long-haul' symptoms that some people experience. It will be years before we know the long-term effects of having Covid."
He said that while the effects of vaccination over time are also not fully known, "numerous clinical trials involving hundreds of thousands of people are showing that the vaccine is safe and effective, two criteria important for developing safe herd immunity."
Arizona State University's McFadden also called this claim "wrong, and dangerously so," adding that natural herd immunity would amount to letting a large number of unvaccinated people die.
Cornell University's Leifer agreed that attempting to reach herd immunity by allowing the virus to run its course in the population is "irresponsible."
"We can't accurately predict who will become seriously ill or die from COVID-19. Furthermore, natural infection with SARS-CoV-2 can cause cardiomyopathy and blood clotting issues, and long-haulers continue to have fatigue for many months."
"With nearly seven billion susceptible hosts on this planet, to reach a minimum of 75 percent of individuals protected by natural infection alone, we would have 5.25 billion humans infected. Even at the lowest estimates of death due to infection (0.3 percent), that would lead to nearly 15 million deaths," she said.
"Vaccines are safe and effective and already saving lives."
CORRECTION: The fith paragraph was corrected on April 26, 2021 to indicate that the figure is for doses administered instead of people who have received a Covid-19 vaccine.