This photo shows the former president of Afghanistan reaching for hand sanitiser
An image purporting to show former Afghanistan President Hamid Karzai taking smokeless tobacco during a conference has sparked anger against him online for an apparent lack of respect. The image, however, has been edited; the original photo shows Karzai extending his hand to receive hand sanitiser.
The image, which appears to show Karzai reaching for a greenish substance from a tin, was shared on Facebook here on March 22, 2021.
"Former President Hamid Karzai is busy preparing to take smokeless tobacco during the Moscow Conference. Alas, it is a shameful thing for a former president of a country to take smokeless tobacco during such an important conference," the Urdu-language caption reads.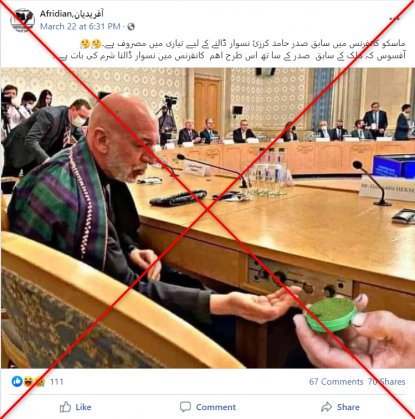 A screenshot taken on March 25, 2021, of the misleading Facebook post
The image was also shared alongside similar claims on Facebook here, here and here and on Twitter here and here. 
However, the claim is false.
A reverse image search on Google found that the image has been digitally manipulated.
The original photo, which shows Karzai receiving hand sanitiser, was published in this report by BBC Persian.
Below is a screenshot comparison of doctored image (L) and the original photo published by BBC Persian (R):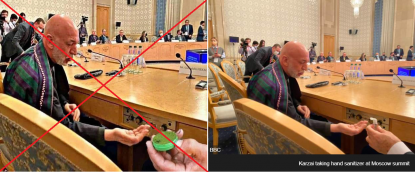 A screenshot comparison of the photo in the misleading posts (L) and the original photo (R) on BBC Persian website.
The BBC image is captioned "Karzai taking hand sanitizer at Moscow summit".
AFP reported on the summit in Moscow here on March 18, 2021. During the one-day conference, Russia urged the Afghan government and the Taliban to reach an accord to end years of violence ahead of a deadline for US troops to withdraw.