Unlocked doors in Canada's 'polar bear capital' are custom, but not law
Facebook posts claim that it is illegal to lock car doors in Churchill, in the Canadian province of Manitoba, in case someone needs to escape from a polar bear. This is false; although it is customary for the inhabitants of the "polar bear capital of the world" to leave doors unlocked, this is not imposed by law, the Royal Canadian Mounted Police (RCMP) told AFP.
"It is illegal to lock your car doors in downtown Churchill, Manitoba in case someone needs to escape from a polar bear," according to Facebook posts, most featuring a photo of a polar bear peeking inside of a car.
Screenshot of a Facebook post taken on May 4, 2020
The claim resurfaced in April 2020, but can be found online as far back as 2011. It was mostly shared on Facebook pages dedicated to "fun facts" about the world. 
In the United States, police departments in Massachusetts, Wisconsin, Maine and New Jersey also contributed to the claim's virality, by sharing it on Facebook as a way to remind their respective communities that, in the absence of polar bears, people should lock their car doors.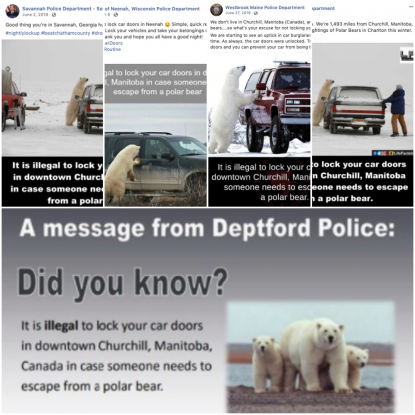 Screenshots taken on May 4, 2020 of five Facebook posts from US police departments
However, no municipal law forbids Churchill residents from locking their car doors.
"There is no current law in place in Churchill that requires residents to not lock their vehicle doors," Paul Manaigre, a spokesman for the RCMP in Manitoba, the province that Churchill belongs to, told AFP by email.
But the claim is grounded in some truth. Churchill, population 900, is known for frequent polar bear visits when the ice on the nearby Hudson Bay melts in the warmer months. 
According to Manaigre, "It is common knowledge that polar bears may enter the community at any time, and those that may need to seek shelter from a polar bear can use a vehicle, as most people will leave them unlocked for this purpose."
"It's just a common practice to leave your doors open. I never lock my car doors in my personal vehicle," Erica Gillis, a research technician at the Churchill Northern Studies Centre, told AFP. 
She explained that this custom is partly due to the polar bear threat, but also because Churchill is a remote, isolated community not accessible by road. "There aren't many roads other than the main street," Gillis added.
There is an estimated population of 935 polar bears in the western Hudson Bay area, where Churchill sits. As a response to the frequent bear visits, the town established a polar bear alert program. A team tranquilizes the animals if they enter town and takes them to a polar bear holding center, known by locals as the polar bear jail.
Thanks to the program, the Manitoba town has not had a bear-related fatality since the early 1980s.