Tweets on US stimulus misrepresent Canada's Covid-19 aid
A tweet claiming Canadians were given $2,000 a month by the government during the Covid-19 pandemic was shared across social media in posts criticizing the US Congress for backing a one-time $600 stimulus payment for most Americans. But the tweet misrepresents the relief available in Canada, where most financial support was reserved for individuals who lost their jobs due to the public health crisis.
"In Canada we got $2000.000 a month for a total of $14,000.00 from march to September. Now we get $900.00 a week from September 2020-Sept 2021 for a total of $23,000.00. All small businesses got $40,000.00 as a loan to pay back over 5 years they only have to pay $10,000.00," claims a December 20 tweet sent in reply to author Don Winslow, who was decrying $600 checks proposed in the $900 billion US stimulus package.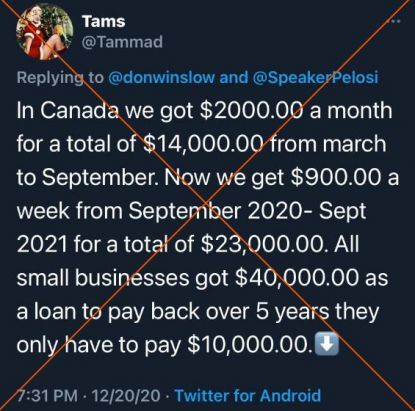 Screenshot of a Facebook post taken on December 22, 2020
The tweet was also shared as a screenshot on Facebook here and here.
A second tweet, which also spread on Facebook as a screenshot, made a similar claim about Canadians receiving $2,000 a month while criticizing US "deficit hawks."
The US Congress passed an initial $2 trillion economic relief package in March 2020, but has spent months negotiating over additional aid to help Americans struggling to make ends meet during the pandemic.
Just a day after Democrats and Republicans reached agreement on a new $900 billion package, President Donald Trump joined the chorus of criticism of the plan to issue direct relief of just $600 to most Americans.
However, the financial aid described in the tweets does not reflect payments made to all Canadians, nor does the first tweet correctly explain the small business loan program. 
Emergency aid
On March 25, 2020, Canada's legislature passed an emergency bill responding to Covid-19. Many of the benefits it created were extended in a second aid package passed in August.
The $2,000 figure in the tweet refers to the direct aid made available through the Canada Emergency Response Benefit (CERB). 
In contrast to the US Economic Impact Payment, which was a one-time check, CERB granted a Can$2,000 (about $1,551) monthly allowance to certain qualified Canadians. 
Individuals had to show they lost their job due to the pandemic, were sick, quarantined, or taking care of someone who was sick with Covid-19, or were a working parent who stayed home without pay to care for children who were sick or at home because of school and daycare closures. 
Canada has a population of about 35.1 million, but according to the most recent data available from October 4, CERB benefits had only been requested by 8.9 million unique applicants.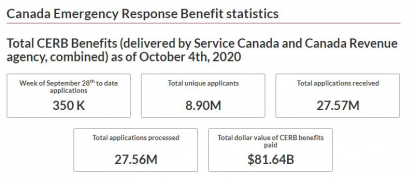 Screenshot of the Government of Canada website, taken on December 22, 2020
The CERB benefit is also taxable. No taxes were withheld from the checks, potentially leaving Canadians who did not plan ahead with large tax bills. 
In September, Canada phased out CERB and announced changes to Employment Insurance benefits and three new benefit programs. 
The $900 figure in the first tweet may be a reference to the Canada Recovery Benefit (CRB). 
However, this benefit is not weekly as claimed, but provides Can$900 every two weeks after taxes. It requires reapplication for each eligibility period, up to 13 times, through September 2021. 
Eligibility requirements include that the person has not left their job voluntarily. The CRB also has an income threshold of Can$38,000.
Small business loans
The economic measures announced by Prime Minister Justin Trudeau's Liberal government also included the Canada Emergency Business Account (CEBA), an interest-free, partially forgivable loan program for small businesses and non-profit organizations. 
The program initially offered loans of Can$40,000. This was increased to Can$60,000 in December. 
The tweet is correct that the loan is not due for five years -- until December 31, 2025 -- but it is incorrect that borrowers will only pay $10,000. 
Loan forgiveness is only available to businesses who pay off their loan by December 31, 2022. The maximum loan forgiveness is 25 percent, or $20,000, if the full $60,000 is borrowed. Five percent annual interest will also kick in on January 1, 2023.
These loans were not given to all small businesses in Canada, as owners still had to apply via their local banking institutions. 
According to the government, in December 2018, the Canadian economy included 1.18 million small businesses.
As of December 17, 803,123 businesses had been approved for CEBA loans.
Screenshot of the Government of Canada website, taken on December 22, 2020
AFP Fact Check previously examined misleading claims about Canada's Covid-19 relief here.