These pictures do not show torture scenes of opposition supporters in Uganda
A Facebook post claiming to show images of tortured supporters of Ugandan opposition leader Bobi Wine has been shared multiple times online. The claim emerged ahead of the presidential election on January 14, 2021, which will see Wine face off against incumbent President Yoweri Museveni. But the claim is false: the images are old and show scenes of police brutality in Nigeria and Zimbabwe.
On January 3, 2021, this Facebook post shared three images: two showed three men with their limbs tied and their bodies suspended in the air while a third featured a  man's badly bruised back.
According to the post, the men belonged to Wine's campaign team and were arrested and tortured by the military under Museveni's orders.
The Facebook post, which tagged major international media organisations, reads: "Warning very brutal pictures. This is how #NUP campaign team that was arrested in Kalangala with his excellency Kyagulanyi Ssentamu Robert on orders of dictator Yoweri Kaguta Museveni and Muhoozi Kainerugaba. Are being treated in a Kasijjagirwa military barracks let the world see (sic)." 
NUP, which stands for National Unity Platform, is Wine's political party.
Facebook added a warning label to two of the images due to their graphic nature.
A screenshot of the false Facebook post, taken on January 12, 2021
While reports of Ugandan police violating human rights have been rampant in the lead-up to the presidential election, these photos do not show scenes from Uganda.
A reverse image search of the tied-up men revealed that the two pictures were from Nigeria and featured in a BBC African Eye documentary titled: "The Torture Virus: Tabay 'rampant' among Nigeria's security force". "Tabay" refers to a type of torture in which a person's arms are pulled backwards and tied at the elbows, cutting circulation. 
In the documentary, the scenes are found at 25 seconds and at 6'18 minutes into the clip.
A reverse image search of the third picture of a man's bruised back revealed that it was captured in Zimbabwe during a protest over food and fuel shortages in January 2019. The image was used in major news reports here and here, where it was credited to the news agency Reuters. 
As reported by AFP, the violent protests erupted after the country's President Emmerson Mnangagwa announced petrol prices would double. Police were accused of using excessive force during the protests, including by the Zimbabwe Human Rights NGO Forum.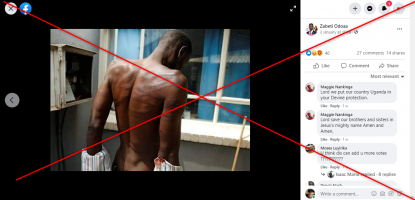 A screenshot of the false Facebook post showing a man's bruised back, taken on January 12, 2021
Uganda polls
Tensions in Uganda are high as the country prepares to go to the polls on January 14, 2021. Pop-star-turned-politician Wine has been arrested multiple times ahead of the ballot and his presidential campaign events disrupted by the police on different occasions.
Online misinformation has also been on the rise ahead of the polls. Facebook announced on January 13, 2021, that it was shutting down accounts belonging to Ugandan government officials accused of seeking to manipulate public debate ahead of elections.
Museveni, one of Africa's longest-serving rulers, had the constitution amended for a second time to allow him to run for a sixth term in 2021.
Wine, 38, has become a popular opposition figure among youth in a country where the median age is less than 16. 
Since becoming an member of parliament in 2017, he has been routinely detained and put under house arrest, his concerts have been banned and his public rallies dispersed with teargas.
EDIT 13/01/21: Adds archive link for claim