These photos show Indian soldiers meeting family in the northern state of Punjab
Two photos have circulated on social media alongside a claim that they show an emotional greeting along the Delhi border between a soldier and his father who was taking part in farmers' protests in the Indian capital. The claim is misleading; the photos were actually taken at a bus station in Ludhiana, a town in the north Indian state of Punjab, which does not border Delhi.
The photo was shared on Facebook here on February 7, 2021.
They show two Sikh men in army uniform standing alongside two older men. One of the soldiers is seen wiping his eye with a handkerchief.
Screenshot of misleading Facebook post
"A soldier went straight to meet his farmer father at Delhi border when came home on leave and his eyes filled with tears when he saw him. #WeWillFightWeWillWin #FarmersAreStandingFirm #FarmersProtest," the post's Punjabi and Hindi caption reads.
The post circulated as farmers, mainly Sikhs from the northern states of Punjab and Haryana, continue to protest against agricultural reforms proposed by the central government, as AFP reported here.
The photos were also shared alongside similar claims on Facebook here, here, here and here; and on Twitter here, here and here.
The photos were also tweeted alongside an identical claim in English on the verified Twitter account of Punjab Pradesh Congress Sevadal, an affiliate organisation of India's main opposition Indian National Congress party.
The claim, however, is misleading.
An analysis of the photos using the InVID image magnifier tool found illegible text in Punjabi -- the regional language of Punjab -- as highlighted in red in the screenshot below:
Screenshot of photo showing Punjabi-language billboards
Further analysis of the second photo shared in the misleading Facebook post found a red billboard with "PARKING", "BUS STAND" and "24 HOURS" written in English.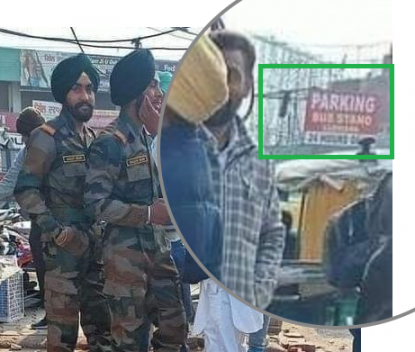 Screenshot of photo showing parking area signboard
Further keywork searches found this YouTube video published on December 29, 2020.
The same red billboard with "LUDHIANA" written between "BUS STAND"  and "24 HOURS OPEN" can be seen clearly at the 18-second mark of the video.
Screenshot of YouTube video
"A Full Overview Of Ludhiana Bus Stand (ISBT)," says the video description.
Ludhiana is an industrial city in Punjab and ISBT is an acronym of Inter-State Bus Terminal.
Geolocation of the "Ludhiana Bus Stand" on Google Maps found several images that corroborate with the photos shared in the misleading Facebook post.
Below is a screenshot comparison of photo shared in misleading Facebook post (L) and Google Maps images (R) with similar elements highlighted in green: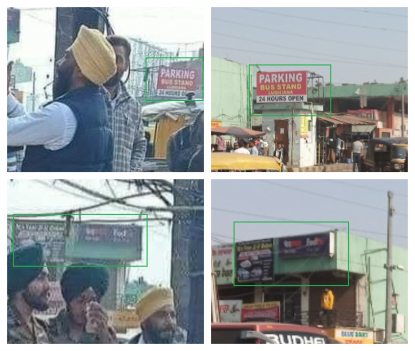 Image comparing screenshot
 AFP was unable to verify the identity of the men in the photo.
Indian fact-check and news website Boom Live have also debunked the misleading claim.