These images show security precautions taken outside Trump's residence in 2016
Images of construction trucks surrounding Trump Tower in New York were shared in a Facebook post claiming they were part of official measures for the "anticipated" violence following the US presidential election on November 3, 2020. However, the claim is misleading: while the New York Police Department (NYPD) indeed secured the perimeter around the tower for the polls, these images were taken four years ago.
"BREAKING: NYPD TRUCKS SURROUND TEUMP TOWER IN ANTICIPATION OF VIOLENT RIOTS OVER POSSIBLE TRUMP VICTORY; ALSO, ELECTION DAY RIOTS BREAK OUT IN DC | PRAYERS UP! (sic)," reads the caption on this Facebook post published on November 3, 2020.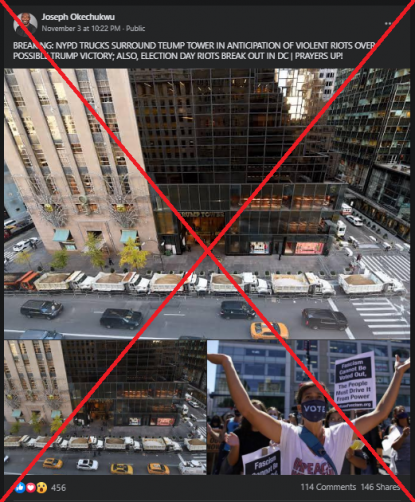 Screenshot taken on November 9, 2020, showing the misleading Facebook post
The post contains three images: two show dump trucks filled with sand parked in front of Trump Tower while the other features a woman raising her hands during a protest.
Trump Tower is President Donald Trump's New York residence on Fifth Avenue in Manhattan.
Using the social media monitoring tool CrowdTangle, AFP Fact Check found the same set of images was published elsewhere on Facebook alongside the same claim.
However, the claim is misleading. 
Old photos
AFP Fact Check traced two of the images back to 2016 when New York City sanitation trucks with sand barricaded Trump Tower for the presidential election won by Trump.
The other photo was shot during an anti-Trump demonstration two months before the 2020 vote, in which Trump's Democrat rival Joe Biden has been declared the winner.
Multiple reverse image searches on Google led to the original versions of the photos in AFP's photo archives.
The first two images showing trucks were shot by AFP photographer Timothy Clary on November 10, 2016 -- shortly after Trump was elected for his first and only term.
"A protective barrier of Sanitation Department trucks are parked in front of Trump Tower on 5th Avenue to provide security to US President-elect Donald Trump on November 10, 2016 in New York," reads the captions on the two AFP photos as seen here and here.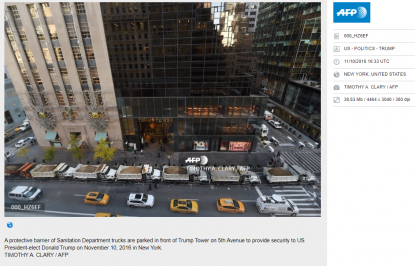 An AFP photo showing barricades around Trump Tower in 2016
The other image was taken more recently by another AFP photographer, Kena Betancur, during an anti-Trump protest in September 2020. 
It was captioned: "Protesters march in New York on September 5, 2a020, during a 'Trump-Pence Out Now' Nationwide Day of Action demonstration."
An AFP photo showing a protester against the Trump administration
Pence refers to incumbent Republican Vice-President Mike Pence who will be replaced by Kamala Harris under the Biden administration. She is the first woman and first South Asian to hold that US office, as AFP reports here.
Meanwhile, the Washington Times and The New York Post reported that at least five large dump trucks and an NYPD bus had been parked in front of Trump Tower as the country went to the polls on November 3, 2020. 
Betancur also documented the scenes of the barricade in front of Trump Tower on election eve.