There have been no deaths from the novel coronavirus in South Africa (as of March 12, 2020)
An article shared thousands of times on Facebook claims that a family of three died from the new coronavirus at a hospital in South Africa's Mpumalanga province. The claim is false; there have been no deaths from the novel coronavirus in South Africa as of March 12, 2020. When the misleading article was published, there were zero confirmed cases in the province; as of March 12, there was one. 
The claim comes from a March 6 article headlined: "Mpumalanga family of three die before testing positive for coronavirus".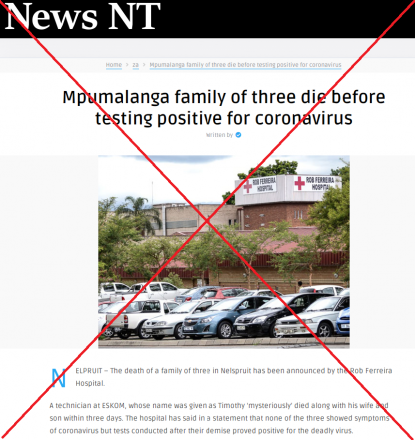 A screenshot taken on March 12, 2020 of the misleading article on News NT
The short article has been shared more than 1,500 times on Facebook, according to the social media analysis platform CrowdTangle.

A screenshot taken on March 11, 2020 of the social media analysis on CrowdTangle
It claims that Rob Ferreira Hospital -- one of the hospitals in Mpumalanga earmarked to handle potential coronavirus cases -- announced the death of three members of the same family who died from the COVID-19 disease. 
"The hospital has said in a statement that none of the three showed symptoms of coronavirus but tests conducted after their demise proved positive for the deadly virus," reads part of the article. 
But the Mpumalanga Department of Health told AFP on March 11 that these claims were false.
"We do not have the coronavirus here. Those were fake news. There were no such patients in Rob Ferreira," said Dumisani Malamule, a spokesman for the department. 
On March 12, one case was confirmed in Mpumalanga province. 
"A 27-year-old female from Mpumalanga who had traveled to the United States. She returned to South Africa on the 7th March 2020," reads the statement from the country's health minister, Zweli Mkhize.
Latest confirmed cases of #COVID19 in South Africa. pic.twitter.com/hYF7FGe4zE

— Dr Zweli Mkhize (@DrZweliMkhize) March 12, 2020
Mpumalanga's department of health MEC, Sasekani Manzini, reiterated in a statement this week that any positive cases would be confirmed by the health minister.
"There is one source of communicating positive coronavirus cases in the country and that is the Minister of Health. If people see any other source, other than from the Minister of Health they must know that it is false news," wrote Manzini.
As reported by AFP, South Africa's health ministry announced its first confirmed case of the novel coronavirus on March 5. The patient, a 38-year-old man, had travelled to Italy with his wife as part of a group of 10 people.
The country has since confirmed a total of 17 positive cases as of March 12.
The global death toll from the new coronavirus was over 4,700, according to figures tracked by Johns Hopkins University.
Find a comprehensive list of over one hundred fact checks on misinformation surrounding the novel coronavirus outbreak done by AFP Fact Check here.