Thai herbal medicine does not cure Covid-19, drug company says
As Thailand faced a surge in coronavirus cases, a message circulated on Facebook that claimed a Thai herbal drink can cure Covid-19. The claim is false: the pharmaceutical company that developed the herbal drink said it "does not have any effects on the coronavirus". Health experts said there was no evidence the purported medicine can treat people infected with Covid-19.
The message was published on Facebook here on April 30, 2021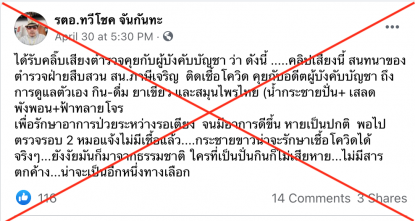 "I received an audio clip of a conversation between policemen from the Phasi Charoen Police Station who was infected with Covid-19. He spoke about how he took and drank green medicine, along with other Thai herbs while waiting for the bed in the hospital," the Thai-language text reads.
"It turned out that his symptoms were better, and eventually recovered to normal. When he did the second Covid-19 test, it was negative."
"Green medicine" refers to a traditional Thai herbal medicine.
It is commercially known as "Bai Hor". According to the brand's website, it can cure "ulcers, high-temperature, flu" and can act as a "light laxative".
The posts circulated online as Thailand brought in new restrictions to counter a sharp rise in Covid-19 cases. Parks, cinemas, and swimming pools were closed in the capital Bangkok.
As of May 11, 2021, the country has recorded 85,005 virus cases since the beginning of the pandemic. 
A similar message about the purported benefits of "green medicine" was shared here, here, here, here and here on Facebook.
But the claim is false, according to the drug company that developed the herbal medicine. 
Earlier this year, Bai Hor said its product "has no effect on Covid-19."
In a statement published on Facebook on January 10, 2021, it said: "There is a rumour that green medicine can treat Covid-19, which also mentioned our brand. We would like to say that #greenmedicine has no effect on Covid, whether it's for prevention or treatment".
Dr. Kajornsak Kaewjaras, the deputy director-general of the Thai Department of Disease Control, said the "green medicine can't be used to treat Covid-19".
Thailand's Anti-Fake News Centre, a government-run platform within the Ministry of Digital Economy and Society, said the social media posts contained "fake information".
"Fake news, don't share!" the report reads in this article on April 8, 2021.
"This news is old and has been forwarded before. The use of green medicine, the knowledge of Thai traditional medicine is used to treat flu, measles, and chickenpox. The efficacy and safety data are not yet available in patients with COVID-19, so it shouldn't be used to treat COVID-19."