Texas pastor falsely accused of failing to provide shelter from cold
Social media posts shared thousands of times claim Texas pastor Joel Osteen has not opened his massive Lakewood Church to those in need of shelter, despite a big freeze paralyzing the state. This is false; both the church and the city of Houston have said the facility is being used for that purpose.
"In Houston, megapastor Joel Olsteen not opening his 18,000 seat arena to the freezing homeless," a February 16, 2021 Facebook post said, misspelling the pastor's last name.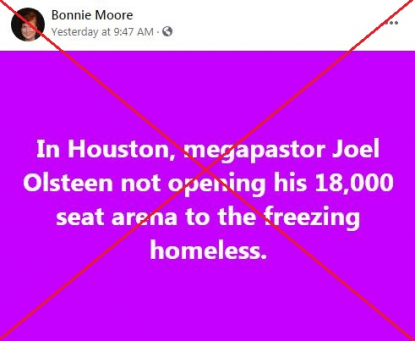 A screenshot of a Facebook post taken on February 17, 2021
Similar posts appeared on Facebook here and here and on Instagram here and here. 
Critics also took aim at the pastor in 2017, saying he kept the church shut to those in need of help after Hurricane Harvey hit Texas.
Osteen is a celebrity preacher, and Lakewood Church services -- which are held in a stadium where the Houston Rockets NBA team used to play -- have drawn tens of thousands of worshipers per week.
On February 14, 2021, the church tweeted that it is "a designated Warming Center beginning today for anyone in need of shelter."
A screenshot of a tweet taken on February 17, 2021
Osteen wrote on Twitter two days later: "If you need a warm place to stay, Lakewood is open. Hundreds arrived last night & more today due to power outages."
Houston's government confirmed the church's announcement.
A deadly winter storm system has hit huge swathes of the United States, sending temperatures plummeting.
Power companies in Texas have implemented rolling blackouts to avoid grids being overloaded as residents cranked up electric heaters.
EDIT: This article was updated on February 17, 2021 to add background.