Sri Lankan faith healer touts false 'miracle cure' for Covid-19, prompting pushback from doctors
A Sri Lankan faith healer claims to have created a concoction that is a "miracle cure" for Covid-19 that will offer "lifetime protection" against the disease. A purported recipe for the alternative medicine was subsequently shared thousands of times on Facebook and Instagram, advising people to "make [it] at home". The claim, however, is misleading; Sri Lankan medical practitioners advise the public against taking medication that has not received the approval of professional medical agencies; as of December 15, 2020, there is no "cure" for Covid-19, according to international health authorities. 
This Facebook post published on December 8, 2020 purports to show a copy of the "miracle cure" recipe created by a Sri Lankan faith healer. 
The post has been shared more than 3,300 times. 
The post's Sinhala-language caption translates to English as: "Make the syrup at home and drink".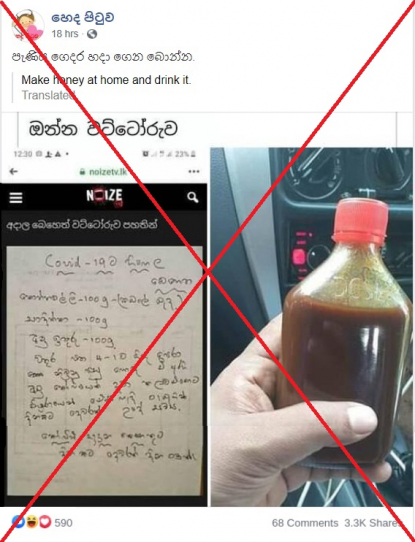 Screenshot of the misleading post, taken on December 10, 2020
The purported recipe suggests mixing coriander seeds, nutmeg, raw ginger and water.  
Dhammika Bandara, a faith healer from the Sri Lankan town of Kegalle, claimed the syrup offers "lifetime protection" against Covid-19. 
In this interview with local Sinhala language newspaper Aruna, published on December 5, 2020, the faith healer is quoted as saying that anyone who consumes the syrup will never suffer from Covid-19. He also claims the recipe for the "miracle cure" has existed since the time of ancient Sri Lankan King Ravana. 
Similar posts promoting the purported recipe were shared alongside a similar claim on Facebook here, here, here and here; and on Instagram here. 
The claim is misleading.
Medical professionals advised against consuming or creating the purported "miracle cure".
Sri Lanka's newly appointed Covid-19 disease control State Minister Sudarshini Fernandopulle warned the concoction is yet to be approved by scientists. 
Dr. Haritha Aluthge, editor of the Government Medical Officers' Association (GMOA), warned that the syrup had not been tested by health professionals, Sri Lanka's Daily Mirror reported here on December 13, 2020.
Dr. L.P.A. Karunathilake, a senior lecturer of indegenous medicine at Colombo University, said that while some of the ingredients in the purported recipe may have immunity boosting properties, they are not sufficient to cure Covid-19. 
"Instead of groping in the dark, it is best if this alleged cure was permitted to be tested at any of the chief institutions regulating indegenous medicine in Sri Lanka including the University of Colombo - Indigenous Medicine Faculty, Gamapaha Wickramaarachchi Ayurveda Institute or the Nawinna Ayurvedic Research Center," he told AFP by phone on December 11, 2020.
"Making claims lacking rigorous scientific basis will only cause the public to eventually lose faith in Ayurvedic treatments.
"The success of any treatment in Ayurveda depends on the immunity of a patient, their resilience and how the medication can support that resilience."
As of December 15, 2020, there is no proven cure for Covid-19, according to international health authorities, including the World Health Organization (WHO). The WHO has compiled information here which debunks misleading claims about purported coronavirus "cures". 
Dozens of companies, from biotech start-ups to Big Pharma, are in the race to develop a safe and effective coronavirus vaccine, as AFP reported here on December 2, 2020. 
The Ministry of Promotion of Indigenous Medicine, Development of Rural Ayurvedic Hospitals and Community Health, issued a statement on the issue. It can be seen at the 10:15 mark of this video from Sri Lankan news channel Swarnavahini aired on December 14, 2020.
The ministry warned the public to refrain from using purported recipes for Covid-19 "cures" that circulate online.