South Africa's education department says the 2020 school year can still be saved
Social media posts shared in South Africa claim that children in grades 1 to 11 will be promoted after the school year was cancelled because of the novel coronavirus pandemic. The claims are false and started circulating after an education expert called for an end to the academic year, an idea rejected by the Department of Basic Education.
By April 21, COVID-19 had claimed the lives of 58 people in South Africa, with a total number of 3,465 confirmed cases.
In response to the crisis, the government announced a lockdown starting on March 27. The confinement is set to end on April 30. 
A Facebook post shared more than 740 times on April 15 reads: "Learners From grade 1-11 will be promoted to the next grade and this academic year has been cancelled. Wow".
A screenshot taken on April 20, 2020 of the misleading Facebook post
The post also has been shared here and here on Facebook. 
The claims echo the ideas of South African education expert Jonathan Jansen, who argued here and here that the current school year should be scrapped in light of the COVID-19 pandemic. South Africa's academic year runs from January to December.
In a column titled "Let's face facts, the 2020 school year is lost. So what to do?", Jansen suggests that schools automatically promote pupils in grades 1 to 11. 
"One, scrap the academic school year; even a 'trimmed down' curriculum will soon be meaningless for the school system as a whole. Two, pass every pupil in grades 1-11 for organisational reasons (we need to enrol a new Grade 1 class and Grade 8 class without clogging up the system), educational reasons (we can only assess what has been taught and learnt) and equity reasons (we should assess on the basis of opportunity to learn, which was unequally distributed in the lockdown even more than is usually the case)," wrote Jansen.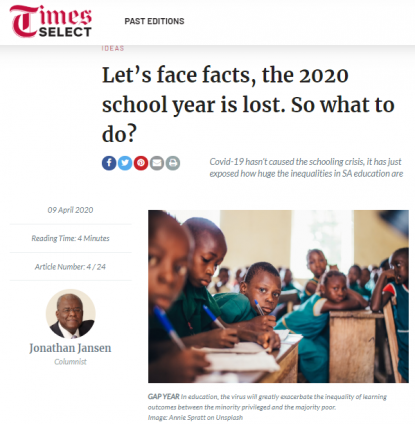 A screenshot taken on April 20, 2020 of the column by Jonathan Jansen
Elijah Mhlanga, the spokesman for the Department of Basic Education, penned a response headlined "Jansen got it wrong -- 2020 school year isn't lost". 
A screenshot taken on April 21, 2020 of Mhlanga's responses to Jansen's suggestions
In an interview on April 17, Mhlanga reiterated that scrapping the school year was ill-advised. 
"We find that type of advice is premature, irresponsible, ill-conceived as well as misinformed because the school year can still get back on track. If you look at the number of school days that we were supposed to have in 2020, it's 198 days -- when schools were forced to close, we only had two days left in the first term," said Mhlanga.
"In this term, we are supposed to have 50 days, by the end of this lockdown … we would have lost about 23 days of this new term, so we believe with that we still have a lot of time and there is still a lot of work that can be done."
He said suggesting that pupils from grade 1 to grade 11 should be passed was a "terrible message" to send to young people.
"There is a plan to phase in education, in terms of the grades that we have in the basic education system -- the proposal has been sent to the National Coronavirus Command Council," he said.
"There is going to be a phased-in approach, so you shouldn't be expecting all learners back in school at once, there are 13 million learners in the system."
As reported here, the phased approach relies on the lockdown in South Africa finishing at the end of April as scheduled. In an attempt to address social distancing, the draft plan proposes that schools reopen with grades 12 and 7 on May 6, followed by grades 11 and 6 on May 20, with the rest returning as follows:
grades 10 and 5 on June 3;
grades 9 and 4 on June 17;
grades 8 and 3 on July 1;
grades 2 and 1 on July 8 and
grade R on July 15.