Social media posts mislead on reasons for India's lack of oxygen plants
As India's coronavirus disaster deepened, Facebook and Twitter posts, including a tweet from a top Bollywood actress, accused the chief ministers of Maharashtra and Delhi states of failing to build sufficient oxygen plants despite being given funding in January 2021. But the claim lacks important context: although the oxygen plants mentioned in the posts were indeed not constructed in time, the funding had actually been allocated to the Central Medical Supply Store, part of India's Ministry of Health; official documents show the state governments were not involved.
India is struggling with an acute shortage of medical oxygen in hospitals as death and infection rates from Covid-19 rose exponentially throughout April, AFP has reported.
The claim was shared here in a tweet by Bollywood actress Kangana Ranaut on April 24, 2021.
"In January, PM CARES money was allocated to build oxygen plants. Maharashtra: Oxygen plants allocated 10, plant built 1. Delhi: Oxygen plants allocated 8, plant built 1," says the text on a graphic which also has images of Maharashtra chief minister Uddhav Thackeray and Delhi chief ministers Arvind Kejriwal. 
PM CARES is an acronym for Prime Minister's Citizen Assistance and Relief in Emergency Situations, a public charitable fund linked to the ruling Bharatiya Janata Party government of Prime Minister Narendra Modi.
Both Thackeray and Kejriwal are from opposition parties.
"They lost all the money from the PM CARES and are now asking for oxygen. Where's the money gone? Why did these two characters not build oxygen plants? Why? We need answers and accountability of the money allocated to them," the tweet says in English and Hindi.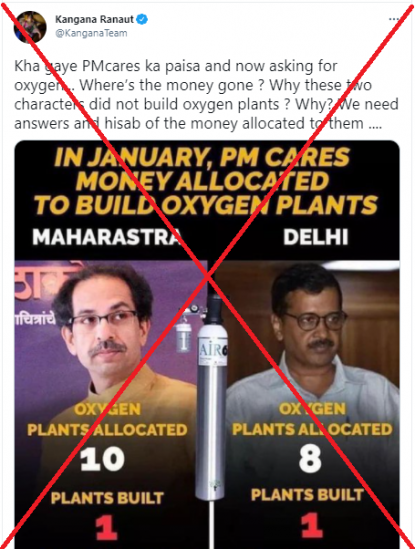 Screenshot of the misleading tweet taken on April 28, 2021
The same graphic and claim were also shared here and here on Facebook, and here, here and here on Twitter.
The posts, however, present the oxygen plant numbers in a misleading context.
According to official guidelines issued by the Press Information Bureau, more than 2-billion Indian rupees (USD $27 million) from the PM CARES fund were allotted to the Central Medical Supply Store to install 162 medical oxygen generation plants across the country.
CMSS is an autonomous body under India's Ministry of Health.
PM CARES "is allocating Rs.201.58 crores for installation of additional 162 dedicated Pressure Swing Absorption (PSA) Medical Oxygen Generation Plants inside public health facilities in the country," according to the statement dated January 5, 2021.
"The procurement will be done by the Central Medical Supply Store (CMSS) – an autonomous body of Ministry of Health and Family Welfare," it added.
The figures in the misleading posts claim that money was allocated for 10 plants in Maharashtra and eight plants in Delhi. This is correct, according to the PIB document: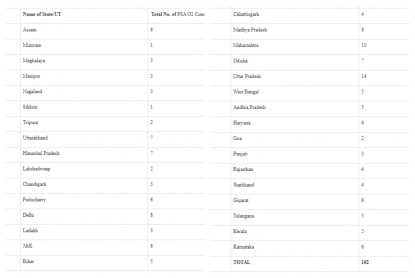 Screenshot of the PIB statement taken on April 28, 2021
But there is no mention of the PM Cares funding being given to state governments.
On October 21, 2020, the CMSS floated a tender inviting bids for installing 150 oxygen plants in different government hospitals across the country.
But India's Ministry of Health and Family Welfare said on April 18, 2021, that out of 162 oxygen plants it had approved, only 33 had been installed.
Out of 162 PSA plants sanctioned by Govt of India, 33 have already been installed - 5 in MP, 4 in Himachal Pradesh, 3 each in Chandigarh, Gujarat & Uttarakhand, 2 each in Bihar, Karnataka & TL; and 1 each in AP, CG, Delhi, Haryana, Kerala, Maharashtra, Puducherry, Punjab & UP.

— Ministry of Health (@MoHFW_INDIA) April 18, 2021
Both Delhi and Maharashtra governments have blamed the central government for the failure to set up the necessary oxygen plants. 
"Centre giving 'false statements' to hide abject 'failure' in setting up of PSA oxygen plants in Delhi," said Kejriwal in a statement on April 26, 2021.
A Congress Party spokesperson in Maharashtra told BOOMLive, a fact check organisation in India, that the state did not receive any money to build, install or run these plants. 
"The state had nothing at all to do with it, except give a list of government hospitals to the Centre where the plants could come up," they said.
Thackeray's Shiv Sena party is allied to the Congress Party.
State governments have the authority to install oxygen plants themselves. Some have reportedly taken this step -- such as the state of Chhattisgarh -- but have had to cover the cost themselves.
This story has been published as part of the Ekta News Coalition, a collaboration of six fact-checking organisations in India.