The report has been doctored from a genuine Indonesian media article
An image has been shared hundreds of times in multiple Facebook posts which claim it shows a genuine news report stating Indonesian top election official defended the "fraud-ridden" presidential election results. The claim is false; the screenshot of the news report has been doctored.
The image, which shows a purported news report dated May 31, 2019, was shared on Facebook here on June 3, 2019.
The headline of the doctored news report translates to English as: "KPU chairman calls on the people to respect election results even though it was fraud-ridden."  
Below is a screenshot of the misleading Facebook post: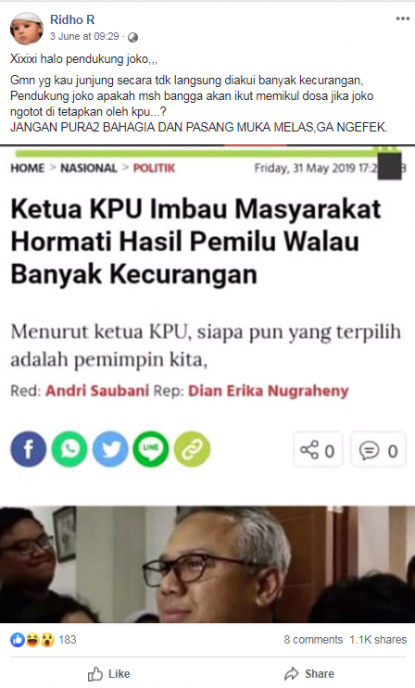 A screenshot of the misleading Facebook post
The report's sub-headline translates to English as: "According to the KPU chairman, anyone who is elected is our leader".
The Indonesian caption of the June 3, 2019, Facebook post translates to English in part as:
"Hahaha hello Joko supporters... How can you uphold if it is indirectly acknowledged there are many frauds, joko supporters, are you still happy to bear sins if joko is adamant to be appointed by kpu…?"
KPU refers to Indonesia's General Elections Commission; Arief Budiman is its chairman. Indonesia held legislative and presidential elections on April 17, 2019. Here is an AFP report about the elections. 
The incumbent, President Joko Widodo, won against his sole challenger Prabowo Subianto, according to final results of the presidential election announced by the KPU on May 21, 2019.
The claim is false; the screenshot shared in the misleading Facebook posts is a doctored image of this article by Indonesian news outlet Republika.
The genuine report, also dated May 31, 2019, has the same logo, subheadline, photo, reporter's and editor's bylines as seen in the misleading screenshot, but the headline is different.
The Indonesian-language headline of the genuine report translates to English as: "KPU chairman calls on the people to respect election results."
Below is a screenshot comparison between the Facebook image and the original report:
Screenshot comparing the screenshot of the misleading Facebook image (L) and the original Republika report (R)