Posts mislead on South Korea's failed campaign to make subway users ride escalators sideways
Several photos have circulated in Korean-language social media posts in May 2021 alongside a claim they show a new campaign from a local South Korea police force encouraging subway users to ride the escalators sideways. The posts claim the policy has recently been introduced in a bid to protect commuters from hidden camera crimes. The claim is misleading: the campaign was scrapped shortly after it was launched in August 2020 following public criticism, police said.
The claim was shared here on Facebook on May 12, 2021.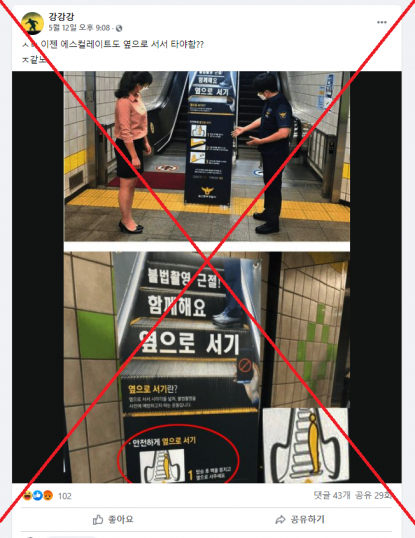 Screenshot of misleading Facebook post. Captured May 17, 2021.
The post's Korean-language caption translates in part as: "Now we have to ride the escalator sideways?"
Two photos were shared alongside the claim. 
The first image shows two people looking a police poster next to a subway escalator. 
The second image is a close-up shot of the poster, which reads: "End illegal [hidden camera] filming! Together. Stand Sideways."
Similar claims were shared on various South Korean social media websites, including here and here on MLB Park; here on PPomppu; here on Bobae Dream and here on Facebook. 
Comments from some Facebook users suggest they believed the purported campaign was introduced recently.
Screenshot of two comments on the Facebook post. Captured May 17, 2021.
One user wrote "Are they kidding, we usually ride facing forward, how can we ride standing sideways?" Another wrote, "Wow~ Now after all this they are limiting us when riding [escalators]."
The claim, however, is misleading.
The photos have been taken from a campaign initiated by the Ilsan Dongbu Police Department in August 2020 that was scrapped shortly afterwards following public criticism. 
South Korean media outlets, including the Kyeonggi Ilbo newspaper and broadcaster SBS, reported the campaign was initially launched on August 10, 2020.
The campaign, however, was scrapped after it attracted criticism from civic groups and social media users.
Goyang Womenlink, a women's rights group, criticised the police campaign in a Facebook post on August 11, 2020.
Local media outlets -- including Women's News and Aju Business Daily -- reported the campaign was shelved within days of it being launched.
A spokesperson for the Ilsan Dongbu Police Department told AFP the campaign was scrapped in August 2020 due to "negative public responses."