These pictures show a design concept of a house created by a Russia-based architect
Multiple photos have been shared thousands of times on Facebook, Instagram, Twitter and Reddit with a claim that they show Russian President Vladimir Putin's house in Sochi, Russia. The claim is false: the pictures show a design concept of a house created by a Russia-based architect — not a real building. 
Two pictures of a building appeared on April 4, 2021, in this Twitter post, which has been shared more than 5,000 times. 
The tweet reads: "Putin's house in Sochi, Russia designed by Roman Vlasov
#EvilBuildings".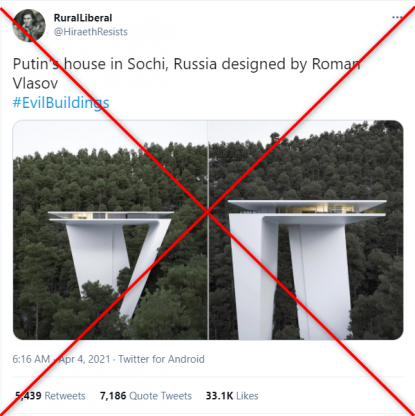 Screenshot of the misleading tweet, taken on April 13, 2021
Vladimir Putin is the current President of Russia.
Sochi is a resort city in southwestern Russia.
The pictures and other images of the building have been shared more than 11,000 times since they appeared here, here and here on Facebook; here on Instagram; and here on Reddit, alongside a similar claim.
The photos have also been shared alongside a similar claim in other languages, such as in Malaysian here and here, in French here, in Japanese here, in Czech here and in Spanish here.
The posts were shared shortly after Kremlin critic Alexei Navalny released this documentary on his YouTube channel about a palatial property on the Black Sea coast near Gelendzhik, Krasnodar Krai, Russia, which he claimed belongs to Putin. State-run Russian media dismissed the claim and billionaire Arkady Rotenberg, a Putin ally, said that he owns the property and plans "to turn it into an apartment hotel", as reported by AFP here. 
Prior to that, other media, such as Reuters and the The New York Times, reported that Putin's official residences are located in Novo-Ogaryovo, west of Moscow, and potentially Sochi as well. 
The claim in the misleading posts, however, is false.
A reverse image search on Google found the pictures were posted here, here and here on January 25, 2021, on the Instagram account of Russia-based architect and designer Roman Vlasov.
All three posts have a caption that reads: "PUTIN HOUSE 
or a story about what his villa might look like 
By @_vlasov_roman_ ." 
The captions also include hashtags #design and #concept, indicating the images did not show a real building. 
When contacted by AFP, the architect confirmed in an email on April 8, 2021: "I am the author of this project" and that the work was "just a concept". 
"In my instagram account there is a description for this work," he wrote.
"And it says that this is my vision of the house of the President of my country, Vladimir Putin. I have not written anywhere that this house is his property."
Below is a screenshot comparison of the pictures from the misleading post (L) and the genuine pictures (R):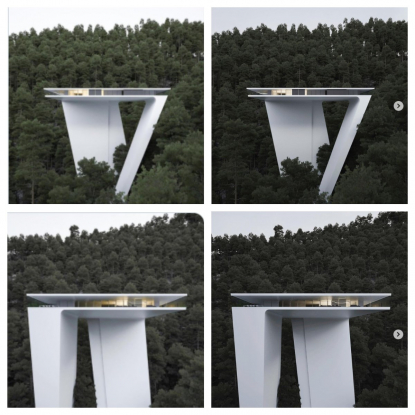 Screenshot comparison of the pictures from the misleading post (L) and the genuine Instagram pictures (R)