This photo shows Australia's Bondi Beach in 2013
A photograph circulating on Facebook purports to be a screenshot from a TV news report showing a crowded beach in South Africa during the lockdown. The claim is false; the image has been doctored and actually shows Australia's Bondi beach in 2013.
The screenshot has been shared hundreds of times on Facebook, including here and here. It shows a beach packed with sunseekers with the words "Crowded beaches in Bloemfontein" on the news ticker at the bottom of the screen, alongside the logo of South Africa's public broadcaster, SABC.
"I'm so disappointed about the people in Bloemfontein… We are on lockdown… And they decide to still go to there beach… And party (sic)", reads the caption on a Facebook post published on April 23, 2020.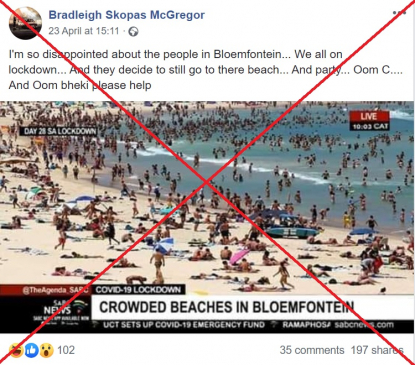 Screenshot of the false claim shared on Facebook, taken on April 27, 2020
"This lockdown is never going to end," reads the caption on another Facebook post which also shared the picture. 
Many comments on these Facebook posts questioned the authenticity of the picture, pointing out that the city of Bloemfontein in central South Africa does not have a beach.
Comments on a Facebook post, taken on April 27, 2020
AFP Fact Check ran a reverse image search and found the original photograph of the beach in the archives of Getty Images. According to the caption, it was taken by photographer Marianna Massey on January 8, 2013 during a heatwave on Bondi Beach in Australia.
"People flock to Bondi Beach to cool off on January 8, 2013 in Sydney, Australia. Temperatures are expected to reach as high as 43 degrees around Sydney today," it says.
\
Screenshot of the original photograph, taken on April 27, 2020
A date stamp in the upper left-hand corner of the screenshot circulating on Facebook reads "DAY 28 SA LOCKDOWN", while a time stamp in the upper right-hand corner indicates "10:03 CAT".
AFP Fact Check found the original footage from SABC's broadcast with the help of these two clues.
Searching the broadcaster's YouTube page, we found the broadcast from April 23, 2020, headlined: "SACC commends government for stimulus package", not "Crowded beaches in Bloemfontein" as seen in the doctored screenshot.

Screenshots of the original footage (left) and the doctored screenshot (right), taken on April 24, 2020
South Africa's President Cyril Ramaphosa has announced plans to ease the national lockdown from May 1. He rolled out strict confinement measures on March 27, under which people were only allowed to leave their homes for groceries, pharmaceuticals and medical appointments.