Photo of man in Trump hat does not show Nashville bomber
Social media posts sharing a photo of a man with a "Trump 2020" hat claim he is the "Tennessee Christmas bomber." This is false; the photo does not match the one released by the US Federal Bureau of Investigation (FBI) of Anthony Quinn Warner, identified by authorities as the person allegedly responsible for the explosion in Nashville. 
"F ING TRUMPER," says a December 27, 2020 Facebook post that includes the photo of a man wearing a pro-President Donald Trump hat, accompanied by the text: "Tennessee Christmas bomber Anthony Quinn Warner 63."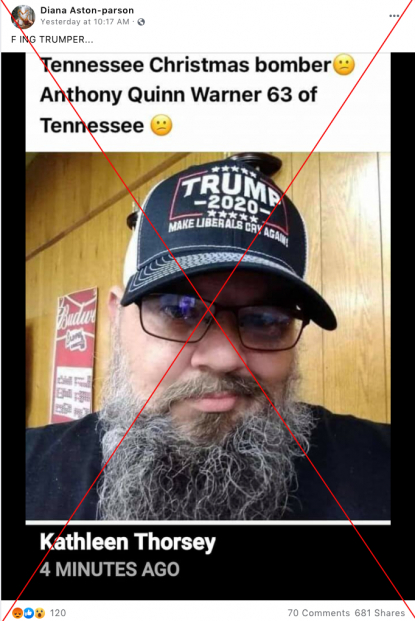 A screenshot of a Facebook post taken on December 28, 2020
"How many Trump supporters will do this, thinking they're doing Trump's wishes," said another post sharing the same photo, before it was removed.
Similar claims can be found on Facebook here, here and here,  on Twitter here and on Instagram here. 
An explosion ripped through downtown Nashville, Tennessee on Christmas morning, killing the man suspected of setting off the bomb, according to federal prosecutor Don Cochran.
But the photo of the man in the pro-Trump hat in the social media posts does not match the image of the alleged bomber released by the FBI. 
On December 25, authorities released a photo of Warner, the owner of the recreational vehicle that exploded in Nashville after a warning message was played. Two days later, the identity of the suspect was confirmed after the analysis of human remains found at the scene.
This undated photo obtained on December, 28, 2020 from the FBI shows Anthony Quinn Warner, 63, of Antioch, Tennessee (FBI / AFP)
Warner, a 63-year-old resident of Antioch, Tennessee, is believed to be solely responsible for the explosion that damaged dozens of businesses. There were no other deaths, but at least three people were wounded by the blast. 
As of December 28, authorities have yet to determine Warner's motives and have so far not linked the bombing to any political party or ideologies. 
A series of reverse image searches did not yield the identity of the person wearing the Trump hat.
AFP Fact Check also debunked false claims linking the explosion to a "forensic audit" of voting machines used during the 2020 presidential election.