This photo has circulated in reports about an Irish teenager who died in 2017
A photo of a young boy has been shared repeatedly on Facebook, Twitter and various websites alongside a claim that it shows a 13-year-old who died after contracting the novel coronavirus in the UK in 2020. The claim is false; the photograph has circulated in reports since 2017 about a teenager who died in Ireland.
The photo has been shared almost 100 times after it was published on Facebook here on April 1.
The post's caption reads: "Schoolboy, 13, with no health conditions becomes UK's youngest coronavirus victim.
"Ismail Mohamed Abdulwahab, from Brixton, sadly died without any family members close by due to the highly infectious nature of Covid-19." 
Below is a screenshot of the misleading post: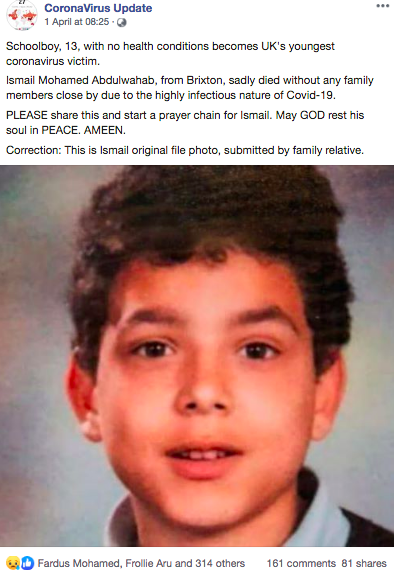 Ismail Mohamed Abdulwahab was a 13-year-old who died from COVID-19 in the UK in March 2020, as reported by AFP.
The photo was also shared on Twitter here and on South African websites here and here alongside a similar claim.
The claim is false.
A reverse image search on Google found the photo was published on May 16, 2017, in this Irish Times report. The report's headline reads: "Conor Wilmot 'found something on the internet that went wrong'". 
The report states in part: "At the funeral mass of Conor Wilmot, Fr Harry Bohan, the parish priest of Sixmilebridge, told mourners that Greg Wilmot had found his son's body behind the family's home in Sixmilebridge last Thursday.
"Mr Wilmot has said the 13-year-old died because of a 'choking game' he had found on the internet and did not intend to take his own life."
The photo's caption reads: "Conor Wilmot, who was laid to rest on Tuesday". 
Below is a screenshot of the Irish Times report: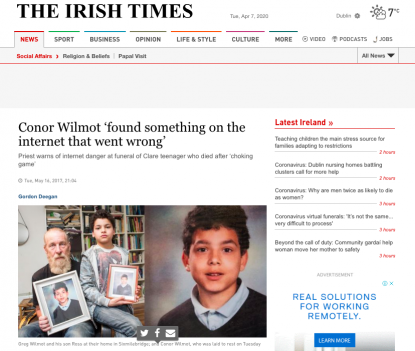 The Clare Echo, a newspaper in Ireland's County Clare, reported on the distress the photo's misuse caused the Wilmot family in this April 6 report. 
The article states in part: "Posting online, Melanie Wilmot outlined her frustration at pictures of her younger brother being used in such fashion. 'We're devastated that they can do this, frankly had enough just let us be and leave Conor alone'."