This photo has circulated in reports about the coffins of earthquake victims in Italy in 2009
A photo has been shared hundreds of times on Facebook alongside a claim it shows coffins of coronavirus victims in Italy. The claim is false; the photo has circulated in media reports since 2009 about the coffins of earthquake victims in the Italian city of L'Aquila.
The photo, which shows two women mourning next to dozens of coffins, was posted here on Facebook on March 24, 2020. It has been shared almost 130 times. 
The Indonesian-language post translates to English as: "Italian Prime Minister HE Giuseppe Conte, cried in public over the deaths of thousands of his people who were infected with COVID-19.
"'We have lost so many of our people. Now we only hope for His mercy'
"475 people died on Thursday 19/3/20.
627 people died on Friday 20/3/20.
793 people died on Saturday 3/21/20.
1895 people died in just 3 days!
-Total death toll in Italy is more than 4,800 people!
"'Lord have mercy on us sinners, may this catastrophe soon pass from Your Earth." Amen?'." 
Below is a screenshot of the misleading post: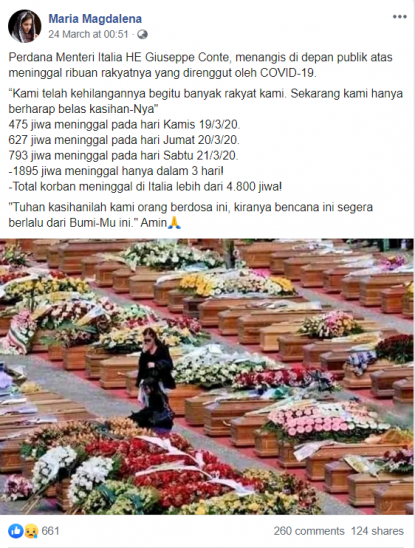 Screenshot of misleading post
More than 132,000 people in Italy have been infected with the novel coronavirus or COVID-19. The virus has killed more than 16,000 people in the country, the highest death toll in the world as of April 8, 2020, according to this WHO report. 
The photo has also been shared for around 150 times after it was posted here, here, here and here on Facebook, alongside a similar claim. 
The same photo with a similar claim in Polish can be seen here. 
The claim is false; the photo shows coffins of earthquake victims in Italy in 2009. 
A Google reverse image search followed by a keyword search found the same photo was published by Los Angeles Times in this photo gallery titled: "April 2009: Quake jolts L'Aquila, Italy."  
The photo's caption reads: "Mourners pray before the 205 coffins covered by flowers and photos of the dead, laid out on the parade ground of a police academy in the mountain city of L'Aquila in central Italy." 
Below is a screenshot of the photo on the Los Angeles website:
Screenshot of the photo on the Los Angeles Times website
The police academy is located here. 
The photographer is Carlo Ferraro and the photo was taken for European Pressphoto Agency. More photos of the April 10, 2009, event can be seen here. 
A 6.3-magnitude earthquake that hit L'Aquila, Italy, on April 6, 2009, killed 309 people and injured another 1,600. It destroyed much of the historic city and left at least 800,000 people homeless. 
This is not the only photo of coffins that was shared on social media to show the tragic ends of the coronavirus outbreak in Italy, for example photos posted on Facebook here and here. 
In this fact-check report, AFP has debunked the claim: the photos in fact show coffins of victims of a boat disaster near the Italian island of Lampedusa in October 2013.