This photo has circulated since 2015 in reports about Narendra Modi greeting an Indian philanthropist
A photo of Indian Prime Minister Narendra Modi bowing to a woman has been shared thousands of times in multiple Facebook and Twitter posts alongside a claim that she is Priti Adani, wife of Indian industrialist Gautam Adani. The claim is false; the photo has circulated since 2015 in media reports about Modi greeting philanthropist Deepika Mondol at an event in 2015.
The photo was published on Facebook here on December 17, 2020. The post has been shared more than 2,900 times.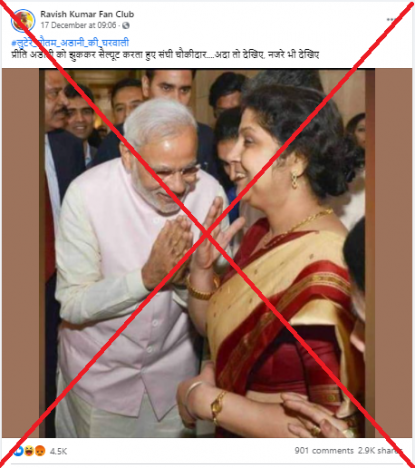 Screenshot of misleading Facebook post
The post's Hindi-language caption translates to English as: "The Sanghi watchman is bowing down to Priti Adani, wife of plunderer Gautam Adani. Look at the style, see the gaze."
"Sanghi" refers to a person associated with Rashtriya Swayamsevak Sangh, a right-wing Hindu organisation.
"Watchman" refers to Prime Minister Modi, who in 2019 described himself as India's watchman -- a "chowkidar" in Hindi.
Gautam Adani is an Indian industrialist.
The photo was also shared here, here, here and here on Facebook, and here, here, here and here on Twitter alongside identical claims.
The claim is false.
A reverse image search on Google found the same photo was published here in a Hindi report on April 19, 2018.
Screenshot of photo published in Hindi report
According to the report, the woman seen in the photo is Deepika Mondol, chief functionary officer of the Divyajyoti Cultural Organisation and Social Welfare Society.
"The photo was taken in 2015 when the PM was attending an event organised by the NGO," the report reads in part.
Below is a screenshot comparison of the photo shared in the misleading Facebook post (L) and the photo published in the Hindi report (R):
Image comparing screenshot
Mondol's name and role is included here on the NGO's website.
The photo was also published in another report by Hindi daily Amar Ujala here on April 12, 2015, alongside a similar description.
The report also published photos of the philanthropist with several other celebrities, including Indian film actors Amitabh Bachan, Vidya Balan, Rajnikant and former Indian President APJ Abdul Kalam taken on other occasions, as seen in the below screenshots:
Screenshots of photos published in the report