This photo has been doctored to include communist hammer and sickle symbol
A photo purporting to show Philippine politicians Sarah Elago and Satur Ocampo donning head scarves with a hammer-and-sickle print has been shared hundreds of times in multiple Facebook and Twitter posts. The claim is false: the photo has been digitally altered from an original that does not contain the communist symbol.
The photo has been shared more than 400 times after being posted on Facebook here September 14, 2020. 
It purports to show Philippine legislator Sarah Elago (right) and former House representative Satur Ocampo (center) both wearing red head scarves that show hammer and sickle.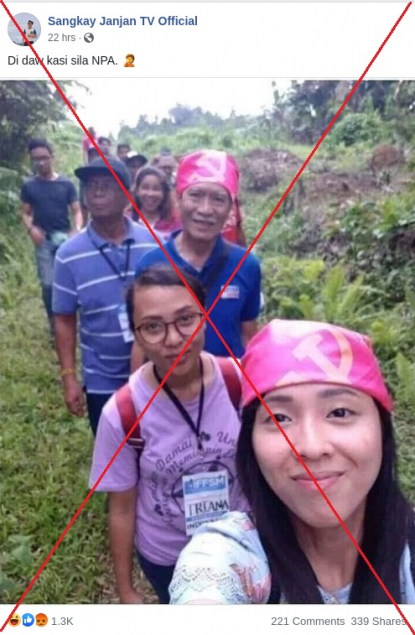 A screenshot of the misleading post, taken on September 15, 2020
The post's caption states: "But they are not NPA."
"NPA" is the acronym for New People's Army, the armed wing of the Communist Party of the Philippines. 
The photo, alongside a similar claim, has also been shared here and here on Facebook; and here and here on Twitter.
However, the claim is false. The photo has been digitally altered to include the hammer and sickle symbol.
A combined reverse image and keyword search on Google found the original photo posted here on Elago's Instagram account August 7, 2018. 
A screenshot of Elago's Instagram post, taken on September 15, 2020
In the original photo, Elago can be seen wearing a plain head wrap, and Ocampo not wearing any at all. 
Below is a screenshot comparison showing the doctored photo in the misleading posts (L) and the Instagram photo from Elago (R):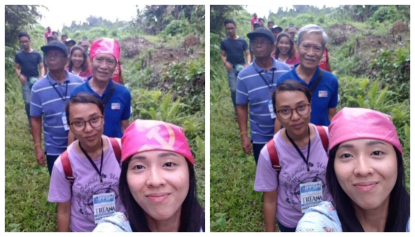 Screenshot comparison
Elago also shared a comparison between her original photo and the doctored image in this June 15, 2020, Twitter post, adding that she would report the incident to the Philippine National Bureau of Investigation.
The fact-checking arm of Philippine news organisation Rappler also debunked the misleading claim here.