This photo was taken nearly 100 years after Chinese Emperor Qianlong's death
A black-and-white portrait of three men was shared in multiple social media posts alongside a claim that the man in the middle is Emperor Qianlong, who ruled China for much of the 18th century, during the Qing Dynasty. The claim is false; the photo in fact shows Chinese men in the late 19th century, according to a UK museum that published the original. The first known photograph including a human was taken in the 1830s, decades after the death of Emperor Qianlong. 
The photo was published on Weibo here on August 21, 2020.
Screenshot captured on September 15, 2020, of the misleading Weibo post
The post's simplified Chinese-language caption translates to English as: "Emperor Qianlong is often portrayed as tall, strong, handsome and charming in TV series. Here's the only authentic photo in the world of the emperor, who can be seen in the middle, looking thin and emaciated." 
Emperor Qianlong is the longest serving leader in Chinese history, ruling the country from 1735-96 during the Qing Dynasty, according to this report from Chinese state media Xinhua. 
The photo was also published with a similar claim on Weibo here and here; and on Twitter here, here and here.
The claim is false; the photo was taken in the late 19th century, nearly 100 years after Qianlong's death. 
A reverse image and keyword search found the photo published here by the Natural History Museum in London.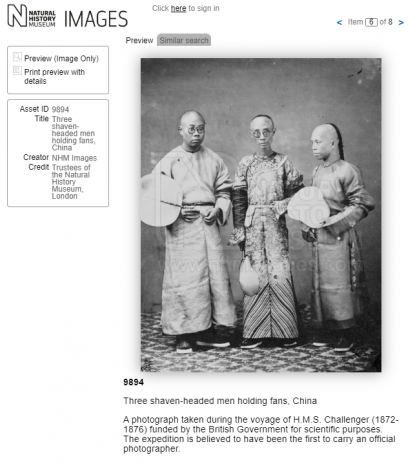 Screenshot of photo published by London's Natural History Museum
The photo, titled "Three shaven-headed men holding fans, China", is described as "taken during the voyage of H.M.S. Challenger (1872-1876) funded by the British Government for scientific purposes. The expedition is believed to have been the first to carry an official photographer."
In addition, the first known photo including a human was captured by French artist and photographer Louis Daguerre in Paris in 1838, decades after Qianlong's death in 1799. Reports on the historical photo can be seen here and here.
The false claim about the photo was also debunked by Taiwanese fact-checking organisations MyGoPen here and Taiwan FactCheck Center here.