This photo has been doctored and officials say the price hike is due to Covid-19 restrictions
An image of a platform train ticket has been widely circulated on Facebook and Twitter alongside a claim that it shows a hiked price that was raised after the railway station was acquired by Indian industrial company Adani Group. The claim is false; the price increase was due to Covid-19 restrictions, railway officials said, and the image has been digitally altered to insert Adani Group branding.
The image was shared on Facebook here on December 30, 2020.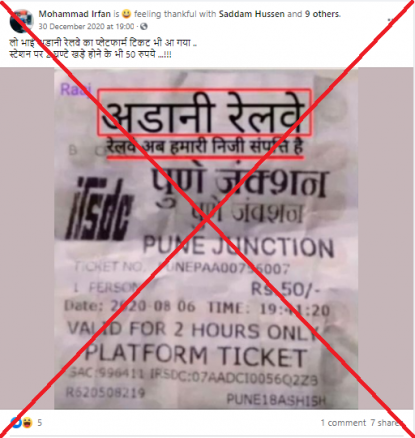 Screenshot of misleading Facebook post, taken on January 6, 2021
The Hindi text that appears on the top of the ticket reads: "Adani Group" and "railway is our private property now."
Adani Group is an Indian industrial company owned by billionaire businessman Gautam Adani.
The ticket is dated August 6, 2020, and is for the Pune Junction railway station in the western Indian city of Pune.
The post's Hindi caption translates as: "Here you go brother, the platform ticket for Adani Railway has arrived. Pay 50 rupees in order to be at the station only for two hours." 
The image was also shared alongside the claim on Facebook here, here, here and here and on Twitter here, here, here and here.
However, the claim is false.
A keyword search found that India's Ministry of Railways responded directly to the claim about the price hike on Twitter here on August 17, 2020.
"The purpose of raising the platform ticket price to 50 rupees at Pune Junction is to avoid unnecessary crowds and to maintain social distancing. The railway has been controlling the platform ticket prices right from the beginning of the coronavirus epidemic," the Hindi tweet reads.
पुणे जंक्शन द्वारा प्लेटफार्म टिकट का मूल्य ₹50 रखने का उद्देश्य अनावश्यक रूप से स्टेशन पर आने वालों पर रोक लगाना है जिस से सोशल डिसटेनसिंग का पालन किया जा सके।

रेलवे प्लेटफार्म टिकट की दरों को कोरोना महामारी के शुरुआती दिनों से ही इसी प्रकार नियंत्रित करता आया है। https://t.co/X2HuPC5HUg

— Spokesperson Railways (@SpokespersonIR) August 17, 2020
The agency's statement was in response to a tweet from Prashant Kanojia, an Indian journalist, who published a photo of the Pune Junction ticket price increase.
Analysis shows that the ticket photo published by Kanojia corresponds to the image seen in the misleading posts. However, the "Adani Group" text at the top has been digitally inserted into the image.
Below is comparison screenshot of the original ticket photo (L) and the doctored image shared in the misleading posts (R) with matching credentials highlighted in green: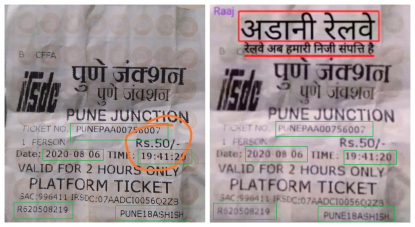 Image comparing screenshot
There are also no credible reports that indicate the Adani Group has acquired Pune Junction. The station remains under the authority of the Indian Railway Stations Development Corporation, which was established by the Indian government.