Pakistan health minister's comments on vaccination misrepresented in edited video
A video has been shared in multiple posts on Facebook, Twitter and YouTube that purport to show Pakistan health minister saying she will not get vaccinated for Covid-19 because of the possible side effects. The claim is false: the video has been edited to misrepresent her comments at a press conference. In the original footage, she described the jab's possible side effects and outlined which groups would receive it first.
The video was posted here on Facebook on June 6, 2021.
"Dr. Yasmin Rashid, health minister for Punjab is talking about the corona vaccine," reads the post's Urdu-language caption.
Dr. Yasmin Rashid is the health minister for Punjab province.
The 30-second video clip purports to show Rashid saying: "The vaccine has side effects and I want to assure people, I won't get it, my secretaries won't get it either".
During the clip, stock images representing purported vaccine side effects -- including facial paralysis and infertility -- are shown.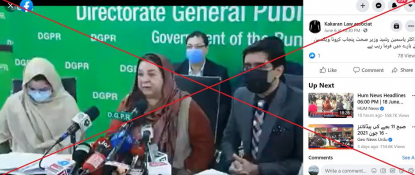 Screenshot of the video with the edited comments. Taken on June 19, 2021.
Pakistan has boosted its nationwide vaccination roll-out in recent weeks, with more than 200,000 doses administered most days. However, this adds up to only a fraction of the 220 million population.
As of June 18, more than 12.5 million doses had been administered, Pakistan authorities said.
But concerns about the side effects of the jab, coupled with misinformation that it causes infertility or death within two years, have sparked vaccine hesitancy. AFP reported on the developments here.
The video of Rashid's purported comments has been shared here on Facebook; here on YouTube; and here, here and here on Twitter alongside a similar claim.
The claim, however, is false; the video has been edited.
The footage was taken from this government press conference on Covid-19 vaccines on February 1, 2021. 
In response to a reporter's question about which groups would receive the vaccine first, Rashid responds at the 20-minute 47-second mark: "I want to assure you, no VIPs will get it. I won't get it, my secretaries won't get it; our health workers who are our top priority will get it first". 
Shortly afterwards, she was asked about possible side effects of the vaccine.
At the 25-minute 34-second mark, she responds: "Look, the biggest thing is that everyone will choose to get the vaccine on their own, nobody is going to give anyone the vaccine by force...The vaccine has side effects. The reason is, it's already on record that those who were very weak, the old, in foreign countries who got the vaccine; they died".
Below is a screenshot comparison of scenes from the edited video (L) and the original press conference (R):
Screenshot comparing footage from the edited video (L) and the original press conference (R). Taken on June 19, 2021.
Vaccine side effects
Four cases of Bell's palsy -- a facial paralysis that is often temporary -- were observed among 18,000 volunteers over two months in the Pfizer/BioNTech trial, AFP reported here.
But the frequency is similar to that normally seen in the general population for this condition, so it is unclear whether the cases were provoked by the vaccine. 
The US Centers for Disease Control (CDC) estimates the rate of Bell's Palsy for vaccinated individuals to not be "more than the rate expected in the general population".
AFP has previously debunked misleading claims linking vaccines with infertility here.
"There is currently no evidence that any vaccines, including COVID-19 vaccines, cause female or male fertility problems," reads this guidance from the CDC.
The American College of Obstetricians and Gynecologists (ACOG), the American Society for Reproductive Medicine (ASRM), and the Society for Maternal-Fetal Medicine (SMFM) also says there is no evidence that vaccination affects a person's fertility.
"As experts in reproductive health, we continue to recommend that the vaccine be available to pregnant individuals. We also assure patients that there is no evidence that the vaccine can lead to loss of fertility", they said in a joint statement.