No, Trump didn't tweet praise for South Africa's President Ramaphosa
A screenshot shared over WhatsApp purports to be a tweet by US President Donald Trump expressing his happiness with President Cyril Ramaphosa and his leadership of South Africa. But the image is a fake; Trump did not tweet about Ramaphosa as claimed.
The screenshot claims Trump tweeted on February 6, 2019 that he was "extremely happy with the leadership of President Ramaphosa, he is a great deal! Business community is happy too! And don't make mistakes by voting useless leadership on this coming election!!"
A screenshot shared via WhatsApp on February 7, 2019
As well as on Whatsapp, the same image can be found on social media, for example here and here.
It has become very easy to create fake Trump tweets through websites which allow online users to insert their own text and save a screenshot, such as the one made by AFP Fact Check in a debunk about Trump tweets in Canada.
A fake Trump tweet made by AFP Fact Check on February 11, 2019
However the misleading Ramaphosa screenshot appears to be further altered and lacks the finesse of modern fake Trump tweets. The alignment and pixelation of the text is wrong, and the border of the tweet itself is uneven.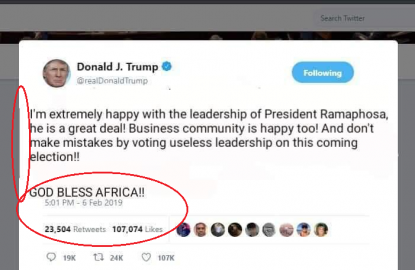 An edit of the misleading screenshot shared via WhatsApp on February 7, 2019
Using Trump Twitter Archive, a tool that allows you to trace back tweets made by the US president, we found that no tweets about South Africa or Ramaphosa were published on February 6.
Trump last tweeted about the country in August 2018, discussing what he called government "land and farm seizures". This led to a backlash from South Africa's International Relations and Cooperation (Dirco) minister, Lindiwe Sisulu.
WATCH: @LindiweSisuluSA on the US President Donald Trump tweet. The minister says it is based on false information and lobbying by certain South African lobby groups that seek to derail and frustrate the land redistribution programme. #DIRCOMediaBriefing pic.twitter.com/DpErhBi6Ju

— SA Gov News (@SAgovnews) August 27, 2018
The South African elections mentioned in the fake tweet are due to take place on May 8.
The Electoral Commission welcomes the announcement by President Cyril Ramaphosa that #SAElections2019 will be held on 8 May 2019. We remind voters that this announcement of the election date is not the same as proclamation of the elections (expected end February).

— IEC South Africa (@IECSouthAfrica) February 8, 2019